In this day and age, the digital world comes first. People around the globe have multiple devices which allow them to be online 24/7 seven days a week. Because of this, we may think that reaching out to target audiences is an easy task for digital marketers. However, ad tech is becoming more and more complicated, and marketers are constantly looking for new ways to reach their target consumers.
The biggest mistake e-marketers make when expanding internationally is that they use the same strategies they use in their country of origin. For instance, French consumers are a lot different from those from the US or other markets. They are different in terms of the content they consume and where they consume it. This means that digital campaigns that work in the US for example, probably won't work in France. As a result, your digital activity will be limited, and this will have an impact on the results you want to get.
The global market is a kind of illusion, every marketing strategy should be localized or at least adapted to the local market. Interestingly, France had 68% daily internet users with Є115 billion in online sales in 2020. This makes the French digital landscape the best place to localize your brand. 
Today, we're going through some digital marketing trends in France that can help you expand your marketing campaigns internationally.
Buying behavior on social media in France
When it comes to France, businesses use social media to a great extent. SMEs use a wide range of social networks including Facebook, Viadeo, Linkedin, Instagram, Twitter, etc.
Main social media platforms from which French consumers shop from in 2020
Although Viadeo (Paris-based social club), is lagging behind Linkedin, it is well-financed and is actively targeting emerging markets. French companies widely use both Linkedin and Viadeo for abroad collaborations, which indicates the international dimension of these platforms. Although the French people use social media at a high rate of 58%, they also value privacy. 91% of French people consider data protection a high priority.
Because of this, the French government has taken actions to discourage social media use. As of September 2018, mobile phones are banned in school, and words such as ''Twitter'' and ''Facebook'' are avoided on TV and radio since the CSA (High Authority for Audiovisual) decision in 2011. Furthermore, several laws control brand marketing. For example, you can only use English in your advertisements if it's followed by a French translation. What's more, the French government launched the "Right to Disconnect'' initiative in 2017. This law forbids employees to receive work emails outside of working hours.
91% of French people consider data protection a high priority.
Despite these barriers, social media advertising is growing. According to Statista, in 2019, mobile advertisements reached 914 million euros in France, which is roughly +15% more than the previous year. Furthermore, the classic desktop ad investments generated around 76 million euros in 2020, which is +7.6 % more than the previous year.
Buying behavior in France on Search engines
Not all companies are present on Google and selling online in France. Below is a chart that shows the share of companies that received orders of product or service from a website or application in France in 2018, by industry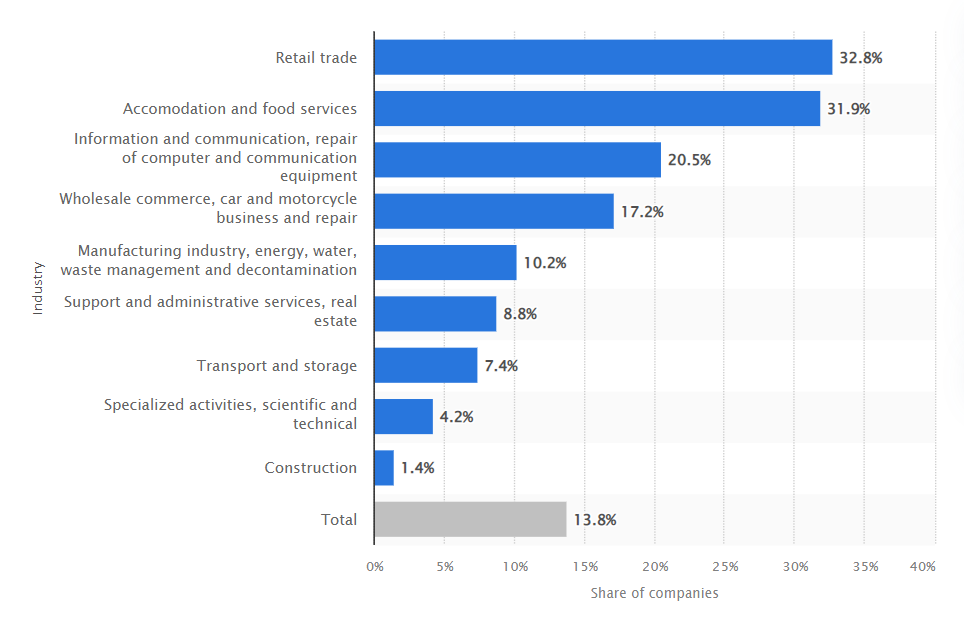 Before you start an SEO campaign in France to promote your website online, you should first check what search engine is used the most. However, Google is the leading search engine in France and it is used by 94% of people. This means you won't have to learn the secrets of search engines such as Yandex or Seznam which are popular in Russia and Ukraine. Nevertheless, you won't be able to transfer all your locally undertaken SEO activities into the French market. So, when making an SEO campaign in France you should focus on the following aspects.
Google is the leading search engine in France and it is used by 94% of people.
Language
French people usually search for phrases in their native language. So, never create word clusters containing two different languages. Choose French names instead of English-French ones, as you will confuse site users and google robots.
Translation
Keep in mind that keyword phrases that work in a particular country probably won't work the same way in the French market. So, try to translate phrases and examine which of their synonyms are used in both official and colloquial speech. For instance, you're dealing with travel services in France, which many people are now looking into, as countries are opening borders. Don't translate just by using Google translate, but make sure which terms are mostly used by French native speakers.
Find a Native Speaker
If you want your digital marketing in France to succeed, it is advised that you work with a native speaker. If you're not familiar with French syntax, accent, and slang, a native speaker will help you avoid various language issues during work.
Google doesn't recognize two pages with the same content in different languages as duplicates. However, it is advised that you take the time to translate texts properly instead of doing it mechanically. Your content should include both slang and cultural elements of France. Therefore, cooperating with a native speaker is vital for your digital campaigns' success.

Email marketing trends in France
This shows us that France has lower click-to-open rates when compared to global statistics or with other European countries.
When we look at email campaigns on a global level, we can see an interesting trend. Namely, the number of emails increases across all clients in odd weeks and decreases in even weeks. Nevertheless, this bi-weekly trend isn't happening in France, as there is an increase in mailings in the third week of every month.
When we looked at email marketing trends in France, we noticed that the best performing type of content were newsletters (42%) and the lowest was fund factsheets 22%. The highest click rates were observed for event invitations(11%) and the lowest for market commentaries. This shows us that France has lower click-to-open rates when compared to global statistics or with other European countries.
When creating an email campaign, e-marketers must consider some crucial points such as data privacy, compliance with a variety of laws, unique consumer experience, and bandwidth acceptance. The French people are very sensitive when it comes to email marketing and despise spam just as other Europeans. Therefore, it is advised to use the services of professional email marketing companies that have a vast knowledge of local markets.
Establish your brand in France
Need the expertise of french native experts? Discover our French digital marketing agency, we help you to gain a foothold in France. We increase your sales through social media marketing, branding, PPC management, SEO optimization and more. We can launch your brand in France within 2 weeks.
Summary
As we can see, digital advertising in a foreign country isn't a walk in the park. There are many laws and details you need to research before you can start your campaigns. Still, if you play by the rules, offer something unique, and embrace the cultural difference, you are more likely to succeed.
Read more about digital marketing in France:
In this day and age, the digital world comes first. People around the globe have multiple devices which allow them to be online 24/7 seven days a week. Because of …

Black Friday has been a staple in the retail industry for years. Does France participate in Black Friday? The short answer is yes. The Black Friday phenomenon has taken the …

Get your free eBook French consumers behavior – a new marketing study Download our new research to discover +20 essential statistics about French consumers' mind and what they expect from …