And the Black Friday Madness continues…Retailers in Germany continue to leverage Black Friday to increase sales. Germans, on their part, are timing their purchases to take advantage of steep discounts.
Retail owners appreciate that Black Friday is an ideal time to boost their sales. The numbers tell the whole story. Impressive Black Friday statistics show that in 2021:
Online shopping sales on Black Friday hit $8.9 billion
About 29% of women intended to shop during Black Friday 2021
Nearly 43% of Black Friday sales happened through mobile phones
Millennials were the biggest spenders, making 44.4% of their Black Friday 2021 shopping online
When is Black Friday in Germany in 2022?
Black Friday is the 25th of November 2022. If you are doing Black Friday marketing it is good to plan ahead. In the USA some companies start their marketing campaigns already in mid-October. Below is an image of Black Friday search trends from 2020 in Germany. It's about 2 weeks before the actual black Friday when consumers really start moving after the black Friday deals in Germany.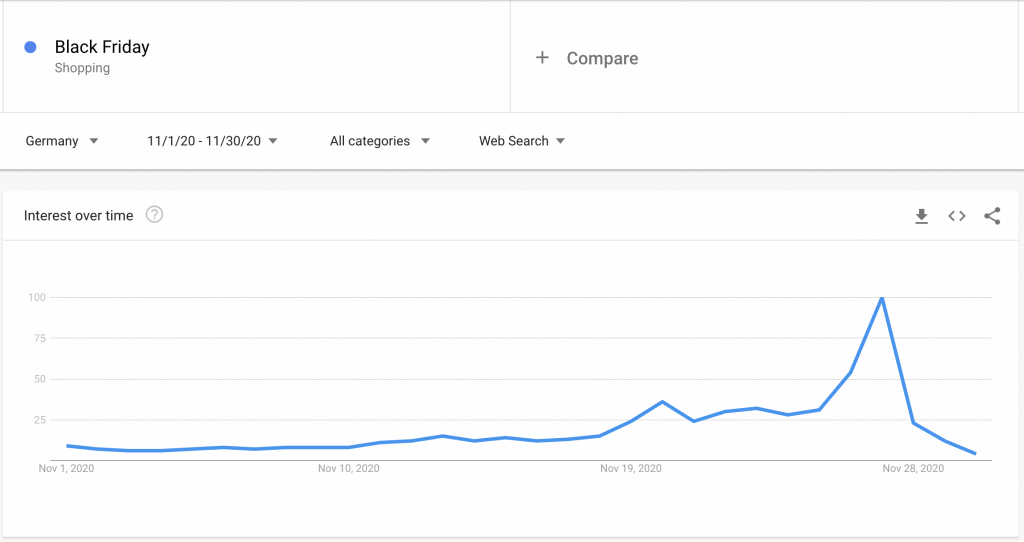 Top Black Friday marketing tips
These figures highlight the fact that retailers can reap big from Black Friday, not just in Germany. The claim that modern consumers are giving the holiday season shopping a wild berth may not be accurate.
And yes, your competitors know this and are beefing up their marketing strategy to make hay during the buying frenzy. Coming up with unique marketing ideas will get you noticed and help you create multiple sales during this holiday season.
Build anticipation early
While the holiday season is ideal for spurring sales, you'll have a shorter time to complete your sales. Besides, your competitors are working tirelessly to lure your competitors.
You'll need to start early to make the most of this short window of opportunity.
Start making your strategy early. This doesn't mean that you need to send your Black Friday sales two months earlier. Timing is everything.
Mailing lists
Utilize the preceding months to get your mailing list in order. Your marketing team should also focus on growing your social media subscribers.
Early preparation will ensure that you reach out to numerous clients when you start your marketing initiatives.
Channels are important
Remember to segment your subscribers appropriately to facilitate a targeted marketing approach. The idea is to ensure that you send highly relevant messages to your clients. Alternatively, you can use the earlier classification to determine the offers you create for specific client segments.
Use your different channels for focused teasers of your Black Friday promotions. A branded hashtag or footnotes in your newsletters could be an excellent place to begin.
Encourage client action
Black Friday sales will typically last for a couple of days. However, some of your clients may not move with speed to capitalize on your diverse offers. You'll, therefore, need to create a strategy that encourages your clients to make the most of your offers before the holiday season elapses.
Include subtle nudges on your messages and outreach efforts to get the best returns. Contents that have phrases like "Hurry!" may cause more harm than good. Clients tend to warm up more to encouraging messages or messages with hints of intimacy.
You can create a sense of urgency in your offers by:
Implementing a countdown timer
Offering discounts for seasonal or time-sensitive products
Making members-only offers and discounts
Essentially, this approach will inform your clients that your offers are only available for a certain period. You'll also be telling them that the products with discounts may not last for long—all these without putting them off or smothering their desire to capitalize on your offers.
Our German marketing specialist can help you create a strategic Black Friday Marketing Plan, so get the most out of Black Friday and Cyber Monday. You can contact us here.
Re-engage former clients
Your marketing team should always strive to connect with clients who left your site without closing any deals. The holiday season offers the perfect timing for such initiatives.
Often, average clients go through a shopping whirlwind during this period. There's a good chance that they'll abandon their shopping carts before completing a purchase. Many businesses fail to reach out to such clients. How much business would you save if you made a point of reaching out to cart abandoners?
Discounts?
Rather than send reminders, you may want to offer discounts to such clients. The chances are that your client left their cart unattended as they went out in search of a better deal. Let them know that you have amazing discounts during this holiday season and watch your sales grow. The idea is: Make your Black Friday count for the digital market in Germany.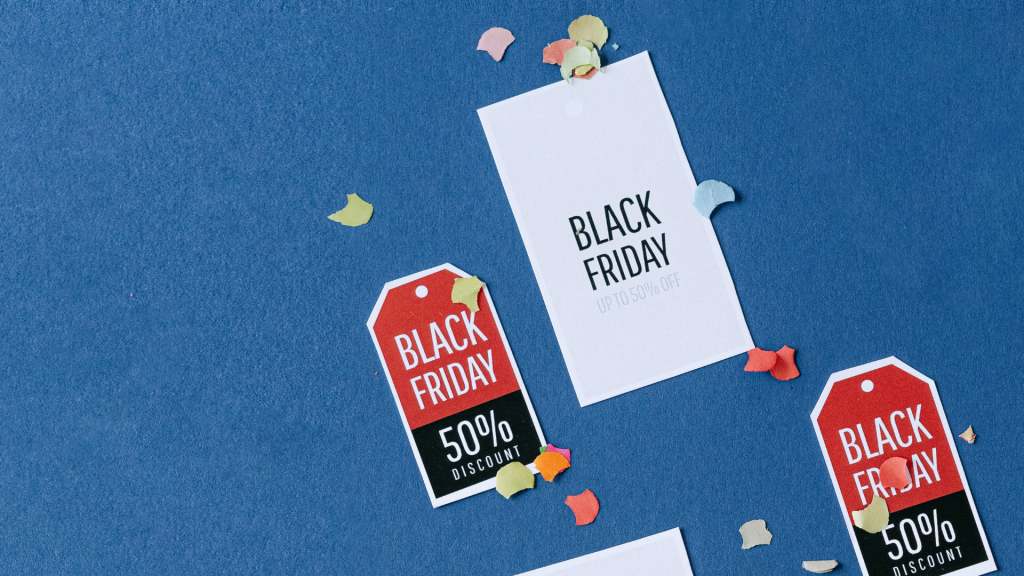 Create gift guides
Most of your clients will look to spread the love throughout this holiday season. Visitors outside your typical target audience will scout your site for gift deals for their friends and family. However, they may not know about your products and how to navigate your site for discounts and offers.
You may want to categorize your Black Friday products by the obvious customer segments before getting more specific with each category. The 'men', 'women', and 'children' categories are usually popular with many retailers.
Hobbies and gifts
Alternatively, you could go more granular and classify your gifts based on the recipient's hobbies. Create short descriptions that inform newbies about specific gift categories. Gift-givers will have an easier time selecting gifts based on their loved one's personality or needs.
Leverage mobile commerce
Typically, eCommerce companies experience a consistent increase in their sales over the years. The holiday season usually boosts this upward trend. Use your mobile apps to reach a more extensive client base and offer discounts on anyone who uses the apps.
Alternatively, you may opt for promo codes that give your recipients a sense of exclusivity. This approach also allows your marketing team to keep tabs on the effectiveness of your push notifications. Be sure to remind your mobile clients that shopping online saves them time, money, and frustration.
Extend the season
While Black Friday won't last long, you have every right to extend the window and generate more sales. You've seen stores that start putting up Christmas trees in October. However, always strive to provide convenience and value whenever you extend the discounts.
Your marketing team may need to get more creative with these shout-outs. Think about massive discounts on popular products and free shipping within specific areas. Besides starting early, you can let your Black Friday deals linger a little longer for the strugglers who need a better deal.
If none of your competitors extends their discount periods, you'll stand out from the crowd.
Capitalize on this year's Black Friday in Germany.
As the holiday season approaches, create an elaborate marketing plan to boost your sales. While you may not implement all these ideas, you may find an approach that suits your brand.
Ready to boost your business for this year´s Black Friday? Get in contact with our German Marketing Specialist.