What makes a business more successful than another one? Yes, there can be a few different factors at play, but eventually, it all comes down to one thing: lead generation marketing strategy. More leads, more sales, more customers, more success. Ok, but how do businesses get those (paying) leads in the first place and how do they convert them into customers?
This is a crucial process that helps companies identify, attract, and convert online users into leads and then into customers (and, if all goes great, into brand advocates). Depending on your type of business, your industry and your company size, you need a solid lead generation strategy in place.
Keep reading our ultimate lead generation guide, and get ready to close more deals than ever before. If you need help to grow your business in France, Denmark, Italy or somewhere else? Gaasly is surely the right European digital marketing agency for you 😎
Different focus: leads B2B vs. leads B2C
B2B or B2C: what is your business model?
First, it's important to identify what is your business: B2B or B2C? Your lead strategy depends on the type of market you are addressing.
B2B, the acronym for business-to-business, is a business model that indicates companies that sell their products or services to other companies. For example, companies that sell X-Ray equipment to hospitals, research centres and universities qualify as B2B companies. To sell their equipment, they need a B2B lead generation strategy.
On the other hand, B2C – business-to-consumer – refers to companies that sell directly to the end customer. This is probably an easier concept to understand, as every one of us is a customer. For example, gyms or fitness studios would qualify as B2C companies since they want to sell to customers gym memberships. This type of business needs a B2C lead generation strategy.
Think about it: whenever you go out for dinner, you become the restaurant's customer. When you buy a new pair of shoes, you become the shop's customer. When you purchase a fitness membership, you become the gym's customer, and so on.
In the B2B market, the volume of customers is smaller, although the final purchase volume is larger. and this is the opposite for B2C, the total volume of customers is very very very large, but the volume of purchases from them is low. Unless you like to buy thousands of pairs of shoes?
So, is your business B2B or B2C? Figure this out first! As you understand, this will determine your lead generation strategy then – how you convert online users into leads.
B2B and B2C marketing leads: different approaches
Generating leads in a B2B market is not the same as in a B2C market. Consumer expectations, purchasing decisions and buying cycle are strongly different. Selling an X-Ray system to a medium-sized enterprise involved in the military industry is not the same as selling Nike shoes to a thirtysomething millennial.
Considering the buying cycle time for lead generation: B2B consumers act slowly and are more advised about their purchases. This is because their purchases represent an important volume and their own business may be greatly affected by the deal. On the opposite, B2C consumers convert faster and are usually less informed about the product differences.
Also, emotional investment is key to drafting your marketing lead generation strategy. B2C consumers usually make emotionally-driven purchases, advertising can affect their perception of your brand; while B2B decision-makers are much more calculating and driven by numbers. At some point, B2C marketing is about giving happiness, and entertaining; while B2B marketing is about educating and convincing.
Finally, the decision making differs from the B2C model to the B2B model. B2C marketing is about addressing your message to 1 consumer, expecting a kind of 1-to-1 relationtionship with the brand. On the opposite, B2B marketing is more about dealing with a team of decision-makers, which constantly involves multiple people and sometimes armies in the purchasing process!
| | | |
| --- | --- | --- |
| | B2C marketing | B2B marketing |
| Market | Mass | Corporate |
| Volume of demand | Large | Small |
| Purchases/Customers | Few | Large |
| Decision-maker | 1 purchaser | 1 team |
| Marketing focus | Feeling | Product |
| Marketing rhetoric | Emotional | Rational |
| Sales cycle | Long | Short |
So it is now pretty clear that you have to consider those points to design your lead generation marketing strategy. Put yourself into your customers' shoes and think about what they need to purchase your service.
To each industry, its own lead generation marketing strategy
Leads vary not only by the type of market, whether B2B or B2C but also by type of industry. Let's take a look at how marketers in sectors like HR, tech, and e-commerce can go about planning a good lead generation strategy.
Generating leads for the HR industry
One of the most profitable and fast-growing industries out there is Human Resources. With job vacancies to fill across a myriad of sectors, and the pressure to find the best candidate quickly, HR managers have a lot on their plate. In the case of Talent Recruitment organisations, candidates who apply for a job position are considered a lead.
Many HR professionals know that scouring LinkedIn for top talents generally pays off. On LinkedIn, HR managers target their leads by niche, skills, professions, and companies, as well as extract their information using specific tools. Linkedin is the most privileged platform, since targeting potential applicants is made easy thanks to a large variety of criteria.
Moreover, HR companies can rely not only on Linkedin Sales Navigator but also on Linkedin Ads. It offers different types of formats to promote their open positions, like Banners, Inmail, Sponsored jobs etc. The company can test different types of campaigns to get leads at a lower cost. The main goal here is to get people applying for the position through a form, hosted on the company website or Linkedin. The form submission must be counted as a conversion to calculate the cost per lead afterwards.
HR organisations can also rely on third-party databases to outsource applicants. This is probably the best and most effective way to source great candidates/leads for HR people by browsing pre-generated lists of leads on third-party databases. This method is also the least time-consuming of all, but it comes with a downside: a much higher price tag.
Generating leads for the Tech industry
One of the most competitive sectors right now is technology. As pretty much every aspect of our lives is (or could be) online, both start-ups and tech giants are constantly racing to build the best and most cutting-edge solutions for consumers in the digital world.
If you are about to launch a new tech product or solution, you can promote it through an outstanding landing page, you could create a pre-launch landing page and grow a customer email list prior to a product launch. Make it exciting, urgent, and all about the customer. Then with a good paid acquisition strategy, you will see your pre-customer base growing up whilst new visitors turn into leads in no time. For example, in the pre-launch phase, Canvas created a landing page with a scarcity effect, allowing early adopters to secure their user name on the platform.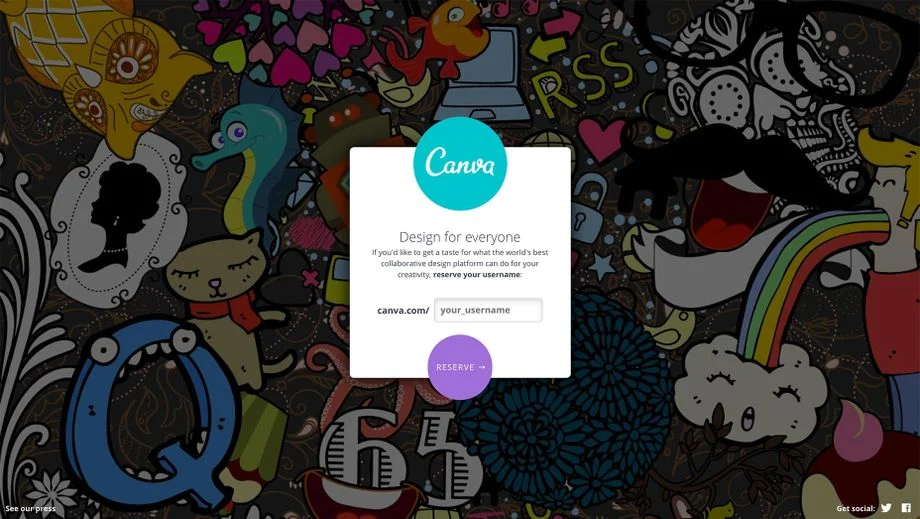 If you're selling a solution like a subscription to a marketing platform, another way to get new customers is to run webinars, online events, and conferences: whatever you feel is more in line with your brand, go for it. All these are fantastic tools to get to know new potential customers, interact and engage with them, and inspire change and innovation through your solutions.
If you thought that offering freebies was a waste of time and money, think again. Tech companies that promote new products or services by handing out demos and free trials can attract more leads by providing a practical, exciting, hands-on experience of the new solutions.
Generating leads for e-commerce
Sales are the lifeblood of e-commerce stores. Incidentally, though, getting new customers to keep those sales up is easier said than done. Below are three great tips on how to achieve this.
First of all, you'll want to consider paid advertising or PPC campaigns. This helps e-commerce store owners like you to target the right users based on your very unique and hyper-specific customer persona. Consider that majority of customers love visual brands and have come to expect video content from most brands, especially on TikTok. If users don't buy during their first visit to your website, suggest they sign up on your email list to receive extra offers. At least you'll have spent your money on PPC to get new leads.
If you own an e-commerce store you need to put quite a lot of focus into crafting amazing content. From creating beautiful product descriptions to blogging regularly about topics that inspire your audience, from writing catchy social media captions to shooting cool and fun videos, you are literally spoilt for choice. Content is what you will need to nurture your leads and turn them from cold into warm until they purchase on your website.
Your foolproof lead generation process
Now that you have a better understanding of what lead generation is and why it is so important for businesses across all sectors, let's take a look at what a bulletproof lead generation process looks like, in practice.
Step 1: make your business easy to find
It all begins when an online user finds out about your brand. This can happen through search engines, email, or social media. Inbound strategies are about making your business easy to find across online channels. And lead generation afterwards turns users into leads. Another strategy is to use paid campaigns to display your brand's advertising to a specific targeted audience.
Step 2: create a compelling call-to-action
Your lead found you online and now has the possibility to connect with you by clicking on a call-to-action (CTA) message. The CTA must entice them to find out more about your products or services. Remember to make your CTAs as catchy, informative, and compelling as possible. CTA can literally make your break the next step of your lead generation marketing process.
Step 3: make a unique solving-problem offer
Now, your online visitor is taken to your landing page in which they are offered something in exchange for their contact details. What you offer is entirely up to you and your business type: you could opt for a free e-book, a free masterclass, a video template, or anything else that might be of value to your audience.
Step 4: ask for the contact information
If what you are offering is of real value, your visitor will be happy to leave their contact details (usually, full name and email address) and expect that you get in touch with them soon.
Congratulations – you have a new lead. Before you get too excited, though, remember that you will now need to nurture it, follow up with it, and persuade it to make a purchase. But that's another story for another blog post!
How to track success: the key metrics to use
Designing, developing, and delivering a lead generation strategy is a great start, but how do you know whether or not what you are doing is actually generating the results that you want? You need ways to track your progress, and you also need to know exactly what type of metrics to measure. Keep reading to discover three of the best key metrics to use in lead generation.
At Gaasly we usually provide our clients with a KPI report that includes for each month (or week):
the cost of the advertising to generate leads
the cost of the marketing (agency fee for the project management, content etc. )
the total number of leads
the average cost per lead or CPL (based on the cost of the ads)
the average cost per lead or CPL (based on ads + cost of marketing)
Then, the company, which takes the responsibility to convert leads into customers, with a dedicated Commercial team, tells us which leads a qualified or not. On a regular basis, we update the number of Marketing Qualified Lead (MQL), which are the leads who have engaged with the company and could become customers if nurtured correctly. On the file, we add the number of:
MQL – lead qualified by the sales team
MQL conversion rate – which measures the quality of the incoming lead
Price per MQL – important to know how much it costs to your business to get a qualified lead
Sales from MQL – which is the number of effective purchases completed by qualified leads
Price per Sales – which is the average price of a unique sale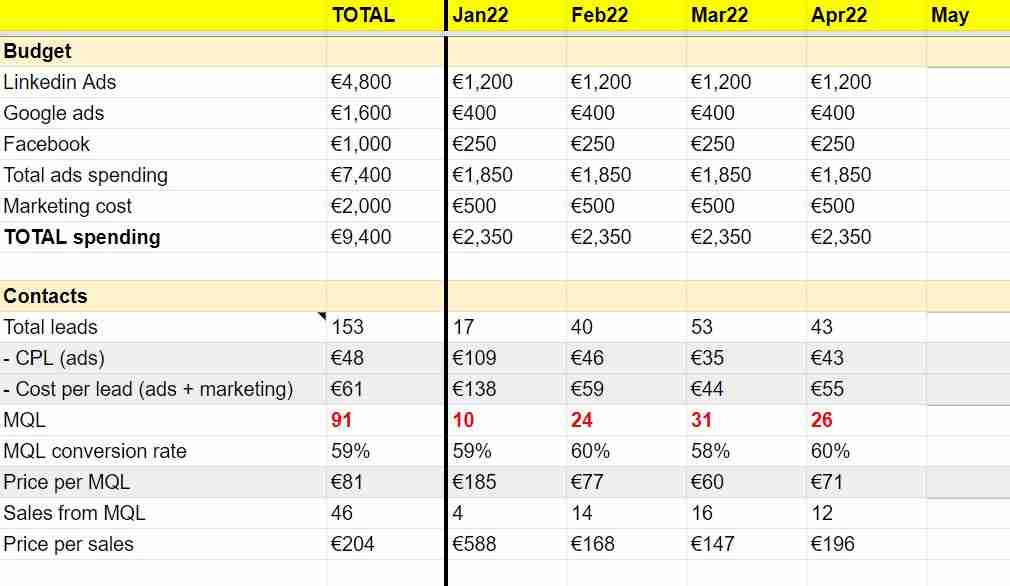 Another crucial factor to keep in mind when tracking the progress of your lead generation strategy is your website conversion rates. This, essentially, indicates how many people perform the specific action that your landing page was created for.
It doesn't matter, exactly, what the action is: it could be downloading a template or an e-book, taking advantage of an online discount or special offer, or something else entirely. Increasing your website conversion rate comes to increasing your volume of lead without spending more on advertising.
Draft your own lead generation strategy
Generating leads is essential for businesses of any size, industry, and location. Nonetheless, this process can be complex, lengthy, and confusing.
This is why all businesses need a solid understanding of what lead generation is, how it works, and how they can create a lead generation strategy that is effective and profitable. In our comprehensive guide, we delved deep into all these topics and offered tips and advice on how to nail the lead generation process – from start to finish.
Do you need any more help and resources on digital marketing? Get in touch with the team at Gaasly today!
Let's go further with the latest blog posts
The global growth of the ecommerce market is showing no signs of slowing down as the 2020s continue to unfold. In fact, the extraordinary times we live in have given … Read more