Find out all the newest social media trends in France for 2022. Social networks in France have been a driving force for this market throughout the pandemic, with more than 36 million people with social media accounts in 2020. Around 70% of those people logged in daily.
This article will discuss some trends you can expect to see this year regarding social media marketing for e-commerce french companies.
With the highest concentration of luxury fashion brands globally, France has a reputation for being an innovative country with strong local brands and quality marketing.
Want to expand your digital marketing in France?
Need the expertise of french native experts? Discover our French digital marketing agency, we help you to gain a foothold in France. We increase your sales through social media marketing, branding, PPC management, SEO optimization and more. We can launch your brand in France within 2 weeks.
Social media penetration in France
| | | | | |
| --- | --- | --- | --- | --- |
| | Facebook | Instagram | Snapchat | TikTok |
| Monthly Active User | 43M | 24M | 23,4M | 14,9M |
| Penetration | 64% | 36% | 35% | 22% |
| Women | 51% | 54% | 53% | 56% |
| Men | 49% | 46% | 47% | 44% |
Social media usage in France and trends
Top 10 networks and messengers by age group
15-24 years old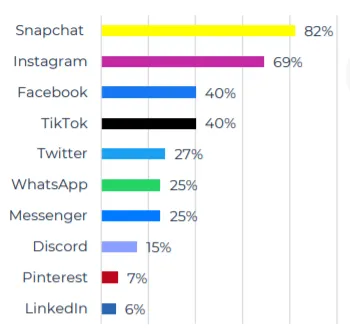 15-24 years old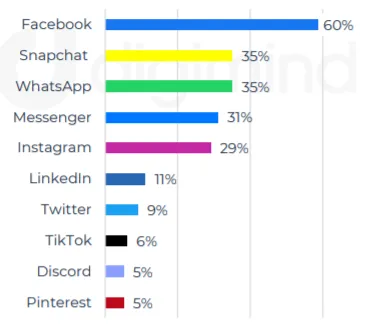 15-24 years old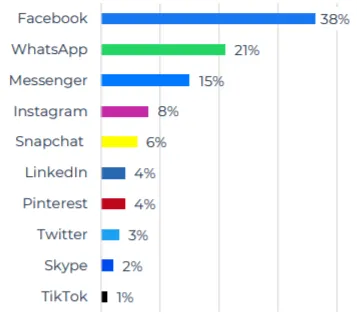 Instagram platform: fashion & authenticity
Still one of the top social media platforms for marketing, Instagram has a reputation as the one most people turn to when they want to see beautiful photos.
As a result, the content value will beat production quality in 2022. The majority of users say their decision whether or not to follow someone is based on aesthetic appeal rather than branding, which emphasizes creativity and authenticity.
This is in addition to the growing trend of shoppable content, a relatively new feature on Instagram that allows users to shop in-app. Since the pandemic, this form of shopping has exploded in popularity.
In 2021, an average of 130 million Instagram users worldwide tapped on a shopping post every month. Instagram, in conjunction with Facebook, truly remains the most popular platform from a customer standpoint.
Snapchat: everyday sharing & immersion
While the two giants are still the king of the social media scene, many brands are shifting their budget towards less crowded platforms like Snapchat and Pinterest. This is because the sense of community is often stronger on these platforms, plus they allow for more engaging content since there are fewer algorithms involved.
Since being introduced in 2011, Snapchat was one of the fastest-growing social networks. In fact, it's been named as a top platform by teen users, with around 90% logging on daily and sending 4 billion snaps per day.
In France, nearly 25 million Snapchat users post snaps, most of which do so every day. France is the second most important market for Snapchat! The continuous shift towards video content continues, as brands find it is the best way to capture their audience's attention. In 2021, more than 9 out of 10 people will agree that watching a video on social media is more engaging than pictures.
France is the second most important market for snapchat with 25 millions of French users
This trend is predicted to continue in 2022, with an increasing number of brands creating custom lenses and filters on Snapchat Stories. This will give brands yet another format for engaging their audience.
Louis Vuitton is one of the most famous examples of this trend with their LV filters.
Pinterest platform: very specific & niche lifestyle
Although many people think of Pinterest as a platform for finding recipes or DIY crafts, it is now a commonly used platform for shopping. As the 7th largest social network in France, Pinterest continues to grow at an annual rate of 5%. This platform currently has roughly 10 million users in France, contributing to the 240 billion pins generated since 2010.
Pinterest currently has roughly 10 million users in France, which represent 17% of the population
Most people go to Pinterest for inspiration rather than purchase directly, but this doesn't mean they're not interested in buying. The percentage of Pinterest users purchasing through the platform has jumped from 50% in the first half of 2020 and has kept climbing steadily since then. Pinterest remains a popular brand engagement tool, allowing users to follow boards and get daily inspiration.
Pinterest is also part of the social networks that will require brands to put content in the hands of creators. With features like augmented reality (AR) and virtual reality (VR) on the rise, it's more important now than ever to have a team of content creators that can create engaging content.
A trend that continues on Pinterest is its largely female user base. Around 60% of its users in 2021 were women, and these female users are highly active in social media. The majority of Pinterest users engage with at least one pinned post every single day.

TikTok social media: fun & entertainment
Perhaps the social media platform in France that grew the most this past, TikTok has taken the world by storm, surpassing 1 billion users. While it is not as used in France as the other platforms above, with 4 million daily users, it is mostly being used by teens, with 38% of users aged 13-18.
38% of French Tik Tok users are 13-18 years
In 2021, brands will also have to adapt their strategy for this platform as the number of users grows. The main goal for TikTok users is bite-sized entertainment and fun, so French brands will have to integrate the TikTok ecosystem by contributing short and snappy videos.
Collaborating with influencers is still very viable. One of the most interesting examples is Nicholas, a famous French blogger who became TikTok famous in 2019 and now has 2.7 million followers. He uses it to share his life with fans and promote brands that he's partnered with.
LinkedIn media: B2B & personal branding
The sense of community on LinkedIn is strong, and it's still one of the best places to find like-minded professionals in France. In 2021, this platform is expected to continue dominating the professional industry, as it encourages professionals to keep their profiles up-to-date and active.
LinkedIn will become a social platform in France that thrives on content marketing strategy. As a platform where businesses connect with professionals and talent, one has to create engaging posts to stay relevant.
The platform is still extremely popular with young professionals. They're typically aged 25-35 and use the platform to stay informed on new job changes and industry news.
While not all businesses and french companies can benefit from a LinkedIn marketing strategy, if you are a freelancer or small business, this can be an effective way to grow your network and promote your talent.
Final thoughts
As content marketing trends grow, brands will have to adapt to a new tone where they focus on providing quality content. We still see users craving short-form videos and snackable content.
There is also an increase in live streaming, augmented reality, and virtual reality experiences. As more users join TikTok, French brands need to start thinking about how they will engage with users on the platform.
While more and more consumers prefer content over products, this doesn't mean they're not interested in buying. Experience-based marketing is here to stay, as brands need to provide a narrative around their products that encourage sustainable consumption.
Read more about digital marketing in France