Find out all the newest social media trends in Germany for 2022. The population of Germany as of 2020 stood at about 83 million. The percentage using the internet has steadily been on the increase—and now stands at 88%.
About 4.5 billion internet users worldwide, and about 84% are on social media platforms.
Social media usage and trends
Considering that internet usage is a determinant of social media usage, we should see a corresponding uptake in social media usage in Germany.
If you want to advertise in Germany through social media, these trends can help you develop a strategy. Alternatively, consider hiring a digital marketing agency for international companies in Germany.
How does internet usage in Germany compare to other countries?
A study published by consumer data company Statista reveals that Germany leads all other European countries in the EU regarding internet usage.
As of December 2020, 79.1 million Germans were using the internet. France came at a distant second with about 51 million internet users. The EU has minor internet users in Malta, where a paltry 390,000 access the internet.
The top-5 countries
The following are the top-5 countries with the highest internet penetration in the world.
| | | |
| --- | --- | --- |
| Ranking | Country | Internet penetration |
| 1 | Denmark | 99% |
| 1 | United Arabs Emirates (Dubai) | 99% |
| 3 | South Korea | 98% |
| 4 | Sweden | 97% |
| 5 | Switzerland | 97% |
Therefore, while Germany leads in the number of internet users in Europe—definitely because of its population—its internet penetration rate is nowhere near the top.
Germany's social media landscape
Germans have not been very enthusiastic social media users—compared to other European countries.
For instance, while less than half (45%) of Germans were active on social media as of 2020, two in three Britons were active social media users.
In the United States, social media usage stood at 70% for the same period.
This low uptake has been variously attributed to the following factors:
An aging population: Germany is in the top-5 of the most aging societies with Japan, Italy, Greece, and Finland. The percentage of Germans above 65 years stands at 22%. By 2050, a third of Germans will be above 65 years of age. Young people use social media more than the elderly.
Germans are traditionally concerned about privacy—and have one of the strictest data protection laws.
Regardless, social media use is on the rise in Germany, evidenced by the fact that between April 2019 to January 2020, the number of social media users in Germany rose by 2.3 million. This represents an increase of 6.5%.
2.3 Million: The number of new social media users in Germany between April 2019 to January 2020
When it comes to analysing the various social media platforms, WhatsApp leads the pack in Germany. This is how the different social media platforms stack up.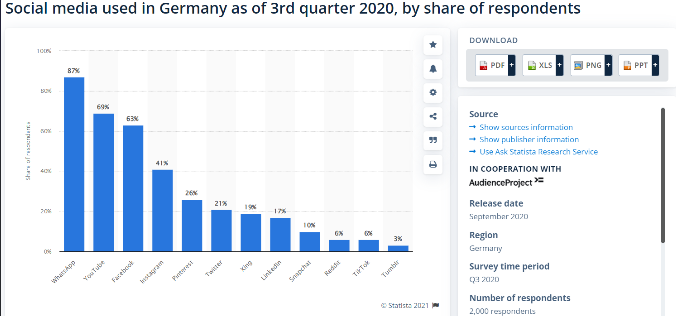 Let's go into the details.
Facebook trends in Germany
At 63%, Facebook usage in Germany is still decent. A piece of more worrying information for Facebook marketers in Germany is that Facebook usage is steadily going down.
However, Facebook is still the largest social network in Germany. Most users are males aged 25 to 34. As a marketer, if you want to reach your target audience, regardless of their age, Facebook should be among your first social network for digital marketing in Germany.
YouTube trends in Germany
The number of people who use YouTube in Germany is only second to WhatsApp and stood at 47 million as of 2020.
It looks like Germans love their videos.
A 2020 report by IAB Europe revealed that social and video ad platforms registered the most vigorous year-on-year growth.
And when you exclude other social media platforms and restrict yourself to videos, YouTube is a clear favourite.
YouTube accounts for a whopping 91% of digital video viewers in Germany.
TikTok trends in Germany
TikTok constituted 6% of social media usage in Germany as of 2020. TikTok growth is expected to persist.
Forecasts show that Germany is one of three countries expected to experience the most significant TikTok user growth in Europe. The others are Russia and France.
Twitter trends in Germany
Between 5 and 8 million people use Twitter in Germany every month. This shows that Twitter usage in Germany has not caught on.
Here are the Twitter audience statistics.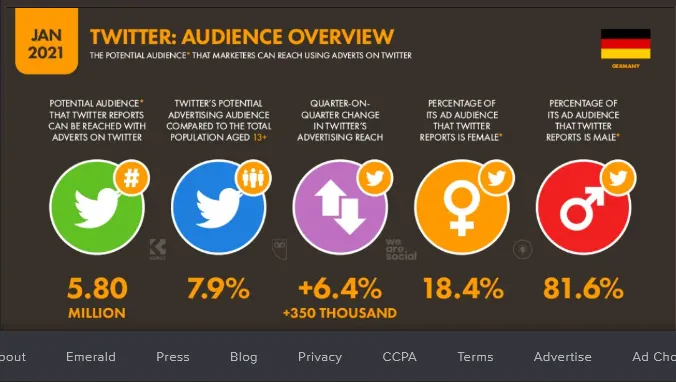 WhatsApp trends in Germany
At 87% usage rates, just about everyone uses WhatsApp in Germany.
One suggested reason for this high uptake is Germans' fixation with privacy. Other platforms involved signing up your account—and the feeling that you're giving away your data.
Well, not as easy for some.
Also, in an internet-saturated environment, WhatsApp is relatively cheap. In some cases, like where there's WIFI, it's completely free.
Almost everyone (99%)—who has WhatsApp in Germany said they use the app at least once a month.
Snapchat trends in Germany
Snapchat is registering impressive growth in Germany. However, this growth is expected to slow and plateau, according to eMarketer.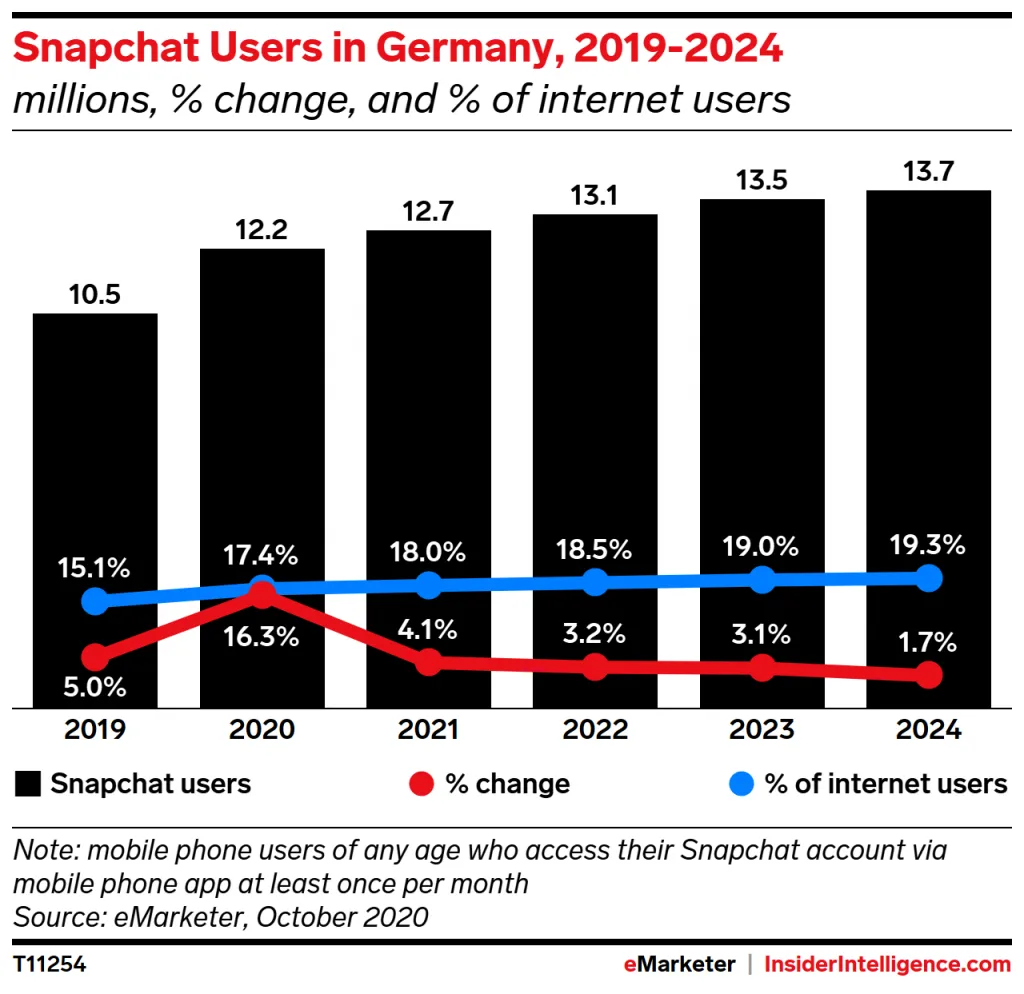 Pinterest trends in Germany
Germany is second only to the United States for Pinterest users as follows.
| | | |
| --- | --- | --- |
| Rank | Country | Pinterest Users in Millions |
| 1 | United States | 100.75 |
| 2 | Germany | 17.56 |
| 3 | France | 12.22 |
| 4 | UK | 10.75 |
| 5 | Canada | 10.25 |
However, Pinterest growth in Germany is not expected to persist if the following trends are anything to go by.
LinkedIn trends in Germany
Germany had about 12.2 million LinkedIn users as of April 2021. People between 25 t0 34 were the majority (5.9 million).
However, LinkedIn is underperforming in Germany compared to other countries. The primary reason is that Germany has Xing, the German equivalent of LinkedIn.
Xing has more than 19.5 million users compared to LinkedIn's 12.2 million. However, some think LinkedIn may overtake Xing as it's growing faster even though Xing still has more users.
Do you want to leverage social media to grow your business?
Social media has become a popular tool for socialising and digital marketing. Like everyone else, Germans love spending their time on these platforms.
As a business owner, you have the chance to reach these users. However, you don't have to do it alone.
At Gaasly, we help small and medium-sized businesses generate more sales and conversions through social media marketing and search engine optimisation. We can also assist you with social media and the new trends in Germany.
We'll help you:
Gain a foothold in a foreign market.
Leverage web analytics so you can better understand your customers.
Grow your sales and your ROI by up 20 times.
"We have been working with Gaasly for many years now. On average, our sales ROI increased x20 times in sales every month."—Tram Nguyen – CEO Tramdecor.
Contact us today to book a call with one of our consultants.
Read more about digital marketing in Germany
The German market is vast: It has the highest population in the EU with 83,783,942 inhabitants and presents an opportunity…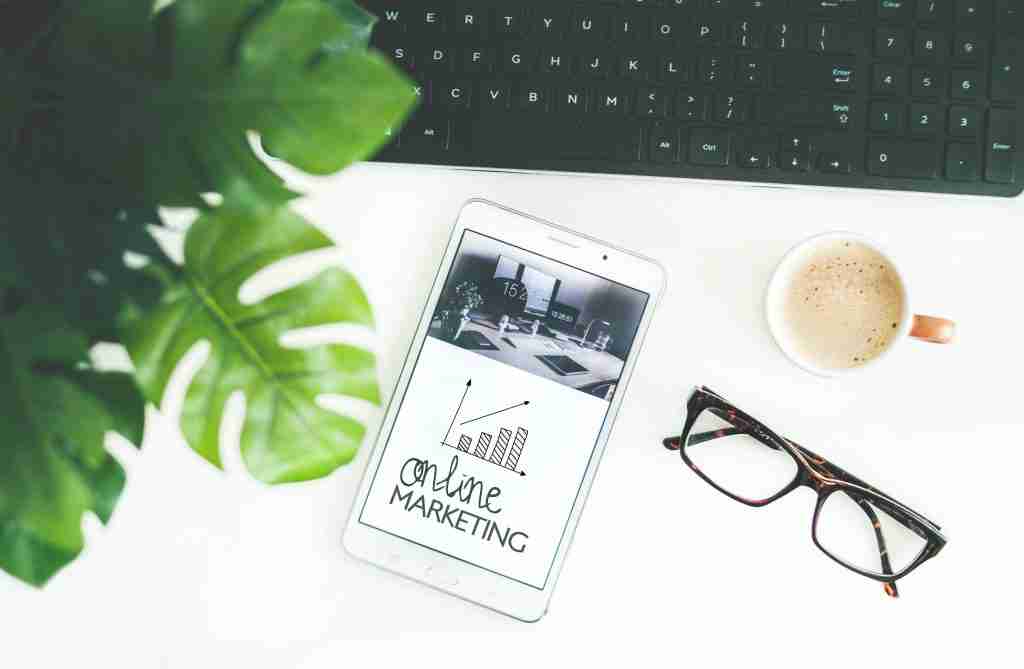 Like much of Western Europe, Germany continues to undergo a digital transformation. About half of the country´s marketing professionals believe that this trend represents…