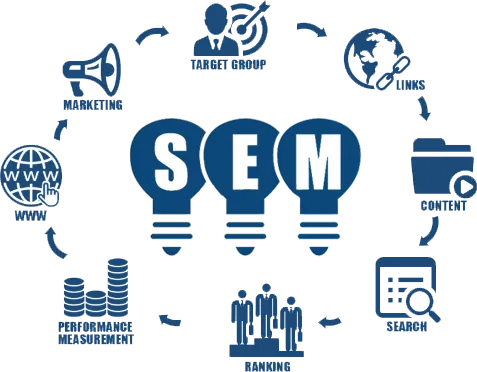 Search Engine Marketing Services in the UK
Whether you're looking to grow your online presence, promote your business, drive traffic to your products, or increase sales in the UK, Search Engine Marketing services (SEM) are an effective way to do so in the UK. With the digital world becoming increasingly competitive, using a digital marketing tactic such as SEM is a great way to draw attention to your business.
Search engines are a powerful tool that allow customers to find exactly what they're looking for. When used properly, your business will have more visibility to customers via search engine.
Read on to learn how your business can organically grow its online presence in the UK digital market with SEM? Keep reading to learn more.
What is Search Engine Marketing?
Did you know that 81% of consumers perform research online before buying? When consumers are researching a product or service, most turn to search engines such as Google to find exactly what they're looking for. These searches ultimately turn into clicks for the businesses that appear as a result of the consumers' search. So if your business isn't showing up in UK search results, you could be losing out on huge amounts of web traffic originating there.
SEM is a digital marketing strategy that aims to rank your website higher in the search results – which ultimately gains more consumer attention and traffic. SEM is made up of a few factors. These include Search Engine Optimization (SEO), search retargeting, paid listings (PPC) and social media marketing. When used properly, each of these factors play a big role for your website to rank higher in the search engine's algorithm.
Search engines use algorithms to determine their relevance to the user's search – therefore it's important to have an effective SEM strategy that understands the search engine algorithm.
Did you know that the first five organic results in the search engine account for 67.6% of clicks in a search? Therefore, understanding the algorithm and the tactics that affect your website ranking can be extremely beneficial to your SEM strategy. Not only can organic SEM get your website more clicks, it can save you money. In fact, 49% of marketers believe that organic or "homemade" search results have the highest Return on Investment (ROI) of any marketing channel.
Learn how to effectively carry out SEM in order to perform better in the UK digital market and grow organic traffic. Otherwise, outsource your marketing efforts to an experienced UK native professional.
Search Engine Marketing Best Practices
The first step to a successful UK search engine marketing strategy is knowing where to direct your efforts. For example, Google holds 83.61% of the UK search engine market. This means that you should be prioritising your SEM efforts with Google, as it will give you the most access to potential consumers.
Priorities
Once you know where you're directing your SEM efforts, you'll need to explore how you'll do so. Ask yourself these questions before defining a solid SEM strategy:
Who is your target audience?
What is your ultimate goal with SEM? And how will you achieve that goal?
What tools will you use to help with your SEM?
What keywords relate to your business?
Is your website fully updated with accurate information?
Do you have social media accounts that you can link to your website and vice versa?
Is your website accessible for users–both on a computer or mobile device?
Getting all of these things in order can help you streamline your SEM results. For example, having a user-friendly website will give your business a better chance of ranking higher in search results. In SEO terms this means the search engine will be able to identify your content easier when crawling your pages.
Strategies
Once you have your priorities in order you can begin carrying out SEM tactics as a part of your marketing strategy. As mentioned earlier, SEO, search retargeting, paid ads (PPC), and social media marketing are all essential pieces of your online property. Here are some critical tips on how you can incorporate these SEM pieces into your strategy:
SEO
Incorporate SEO keyword strategies to match search queries: Incorporate long-tail keywords that relate you your business, build content on your website that relates your keywords – research what keywords UK consumers are searching and post content that relates to them.
Have a blog: Being able to reach a broader audience is important. Blog posts give you a chance to incorporate keywords and hyperlinks. Content should appeal to what's popular among UK audiences that search for related keywords or terms.
Create a link building plan for Digital PR: Find a way for other website to feature hyperlinks to your own site. This is done by creating a reputable brand and building relationships or actively contacting site owners – you can be creative with your approach or pay for the feature. Our main advice is to always prioritise user friendly: Is the other site related to your industry? Would their traffic be interested in your content? Quality over quantity is something to evaluate.
PPC
Use paid ads to your advantage. While organic SEM is always a great way to build a long-term organic stream of leads, there is nothing wrong with doing paid ads. In fact, it's the fastest way to rank your website higher on the top search results. However, keep in mind that you need to incorporate SEO tactics such as keywords & related content.
Retargeting based on search intent and demand: This is done through paid SEM.
Social Media
Social Media Marketing is key as a reference and being accessible for clients. Using social media platforms such as Instagram, TikTok, Pinterest or Twitter allows an easier touchpoint for consumers and they draw attention to the search engine algorithms.
Look for Search Engine Marketing services in the UK to efficiently grow organic web traffic from local consumers.

Incorporating each of these tactics into your SEM strategy can give you a solid basis for successfully growing traffic volume.
Increasing Your Website's Ranking in the UK Market
Digital markets and search engines vary from location to location. If you do want to increase traffic or sales in the UK, working with an experienced digital marketing agency with vast experience in Search Engine Marketing services can help you succeed in growing your online business volume.
A professional UK SEM agency can leverage on trending tactics to effectively carry out your strategy and give you real insights on how your marketing is performing. So if you want your business/website to perform well anywhere, including the UK, you want an agency with an international team of experts. Gaasly offers a wide variety of digital marketing services to help grow your business. Click below for more information on how Gaasly can help your business grow in the UK.