It is not big news that TikTok has been widely used as an alternative to Google and other search engines. It is very popular with Gen Z, but lots of Millennials use it too and it has older users as well. The big question has been how much of the total volume of the searches does TikTok get? How many people are using TikTok search and does it make sense to start optimising for it?
Maybe now is a good time to start looking into it when TikTok sees itself as a big enough entity to build an ads business on. TikTok started testing its search ads back in March 2022. This was the first indication that there could be enough volume to make it a business case to optimise for TikTok search. Fast forward one year and TikTok is preparing to launch Search Ads.
We don't know yet how the Ads tool will work, but it will offer a lot of interesting data to help with TikTok SEO and enable it.
The user experience for searching on TikTok is getting better
A growing number of users use the search function on Tiktok. Partially in response to this TikTok has expanded the video description field from 300 characters to 2200 characters to better serve their users. Now it is possible to add better video descriptions with all the related keywords and hashtags. Paying close attention to basic SEO optimization techniques can help you to drive traffic and gain new followers. Now TikTok content is also indexed by Google so you should keep in mind how to optimize your content for both TikTok and Google.
TikTok search button
You can find the search button at the top of the screen usually. It is a little bit difficult to reach if you use your phone with one hand.

TikTok Search
The search looks like this and it will have suggestions to make your query more exact by adding content to the end of the query. It's good to note that the beginning of the string does not change. From the SEO point of view, you want your product on this list to do the search about your product instead of anyone else's.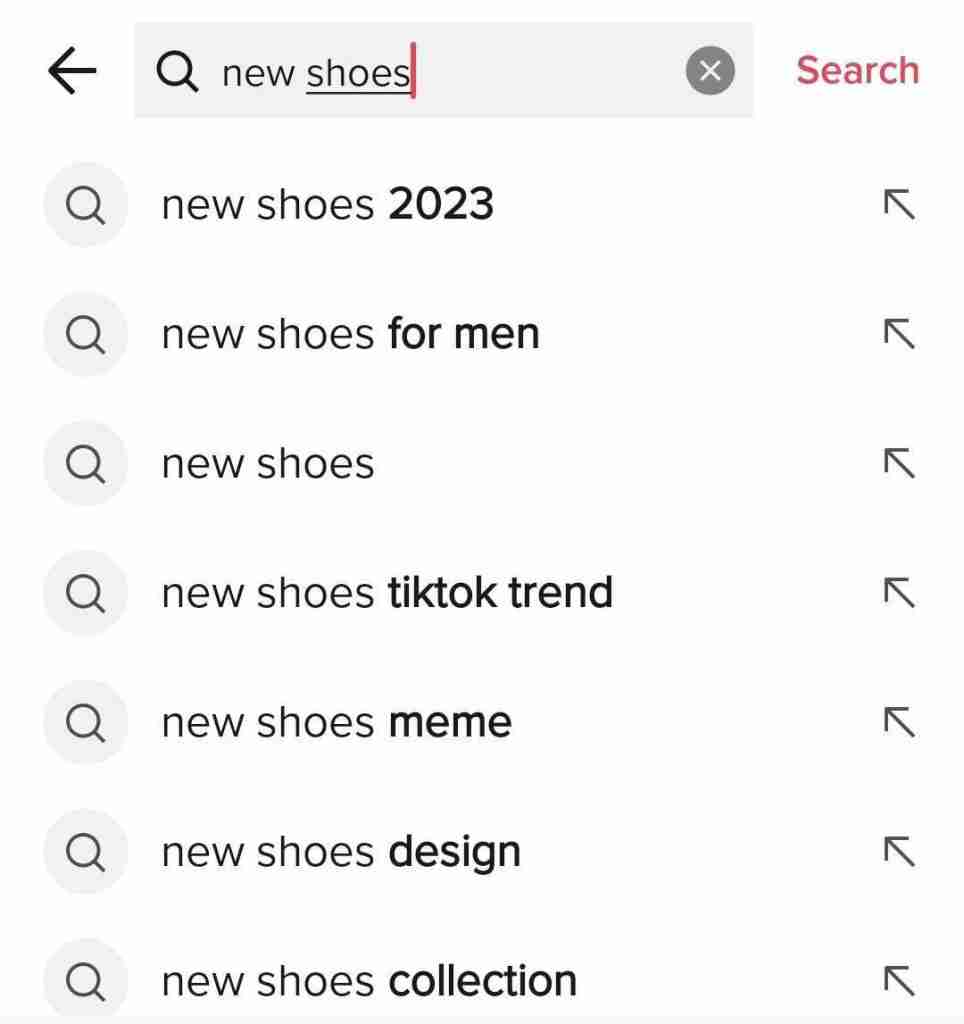 TikTok Search Engine Results Page (SERP)
TikTok SERP looks like this. There are typically 4 results on each page and the first result will auto-play. On top of the screen next to the search bar you have a little icon for filters and other settings to modify the search result page. Under the search bar, you have little navigation where you can choose if you want to see top videos that are published by creators with lots of followers and lots of views. Then you have options for videos with less views and perhaps slightly less relevant ones followed by users, sounds, shop, live videos and hashtags. All these options can be handy when searching for something in particular.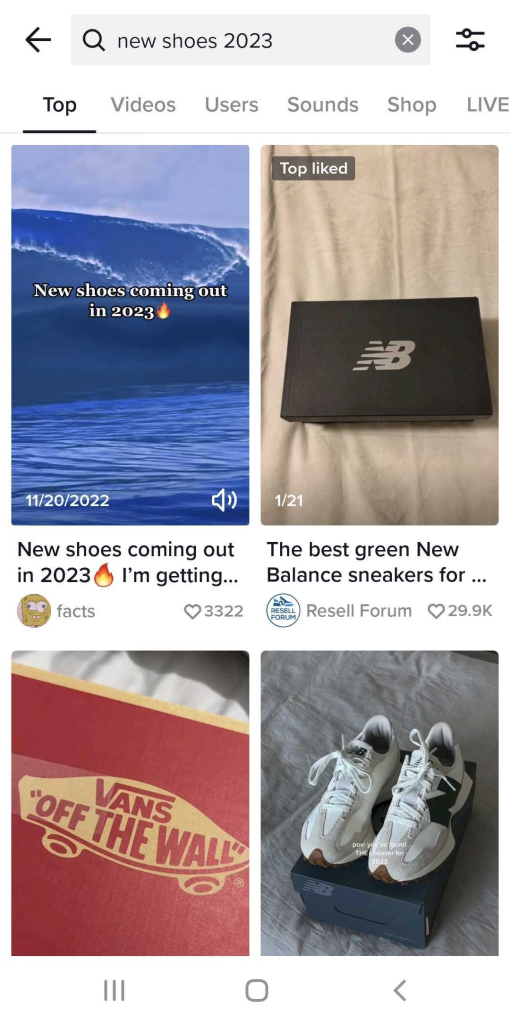 TikTok search algorithm
We don't really know how the actual search algorithm works but we can pretty safely assume that it is scanning the text content attached to the video and probably using AI to understand the context of the video.
When the video is created there is an option to create captions automatically for different languages. This is ON by default. Language is probably one big factor for the algorithm and other settings that have been saved on your account and on your device will likely have a large impact on the content you will be served. You are more likely to receive content from your country with your chosen language and from categories of interest that you have chosen.
As mentioned earlier each TikTok video now has a description field which is a maximum of 2200 characters long. It can include keywords and hashtags and these can used to serve related content for users.
TikTok videos have comments too which could affect the search algorithm. User´s interactions with other videos and their saved favourites and videos that have been watched from start to finish are also taken into account. Using all this information and more TikTok tries to curate interesting content for their users.
Keyword Research
Very much like keyword research for regular search engines except nothing like keyword research for traditional search engines. We don't have tools yet to estimate search volumes… But traditional search engines can give some guidance. Some trending search terms on Google are likely to trend on TikTok too, but this of course is not always the case.
Search intent is key to ranking high on the search
Like on other search engines, also on TikTok people search for answers to problems or questions. For example, a study conducted by Google found that 40% of young people go to TikTok or Instagram when they are searching for a lunch place.
Making a video that ranks high on search requires an understanding of search intent. Search intent describes the reason why someone is making the search.
There are a few ways of studying search intent on TikTok. First, you can go to search and see what TikTok is suggesting when you start searching. Second, you can see search results provided by different search terms and analyse the intent through that.
If you are interested in advertising on TikTok, read more about TikTok ads here.