1. Growth Sprints
Our growth process starts with analysing the current state and setting specific short & long-term goals. We aid you to reach your goals with rapid one-week long iterations (our Growth Sprints) to improve your digital marketing. A successful proven strategy.
2. Rapid iterations
Iteration is the process of making continuous improvements by following clear strategies. It is why we include relentless efforts of optimising conversion rates in our game plan – a critical best practice.
3. Retrospective, now & then
Every month we create a detailed audit showing you the progress and the growth rate. All future actions will be discussed in detail. With this, your short&long-term goals will become a true reality. Our promise to you. Because the future always matters.
The Growth marketing process of success
The plan is simple: it all starts with a 15-minute discovery call to get to know each other. We present our agency and discuss how we can help you to achieve your goals.
Each step is carefully crafted to ensure long-term success for your digital marketing campaigns.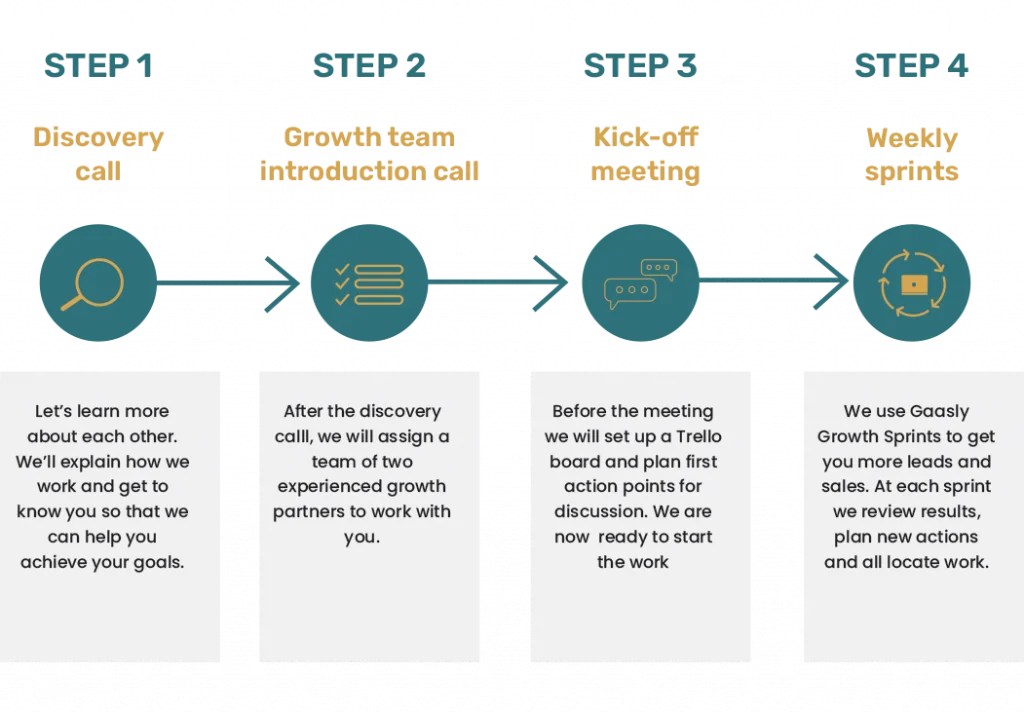 Building the Growth team
The Growth Team consists of Gaasly professionals and members from your organization. All Gaasly Growth Sprints will be made as a team, connected by modern technology.
With a positive spirit, together, we are aiming to reach all of your goals. Because there is no "I" in TEAM.
Send us a message to book a introduction call
Are you interested in improving your marketing in our modern world? Boost awareness? Build or increase your market share? Refresh your brand? On a local or global scale? We can help.