Find out all the newest social media trends in Germany for 2023. Germany's population was 84 Million in March 2023 according to WikiPedia. Germany's internet penetration rate stood at 89.25 in 2022 and is estimated at 90.19% in 2023 according to Statista.com.
Social media usage and trends
72.60 million social media users were counted in January 2023 in Germany. Since internet usage is a determinant of social media usage, we should see a corresponding uptake in social media usage in Germany.
If you want to advertise in Germany through social media, these trends can help you develop a strategy. Alternatively, consider hiring a digital marketing agency for international companies in Germany.
The rise of video content
The digital landscape has witnessed an undeniable surge in the prominence of video content across social media platforms. What was once a supplementary element has evolved into a dominant force, reshaping the way we communicate, connect, and consume information online.
This meteoric rise can be attributed to several factors. First and foremost, video content possesses an innate ability to captivate and engage audiences like no other medium. With its dynamic blend of visuals, audio, and storytelling, video seizes attention, making it an ideal vessel for conveying messages, stories, and brand narratives.
Furthermore, the proliferation of high-speed internet and the ubiquity of smartphones have democratized the creation and consumption of video content. Anyone with a phone and a creative idea can now become a content creator, fostering a diverse and vibrant online video ecosystem.
Most used social media in Germany 2023
How does internet usage in Germany compare to other countries?
A study published by consumer data company Statista reveals that Germany leads all other European countries in the EU regarding internet usage.
As of December 2020, 79.1 million Germans were using the internet. France came at a distant second with about 51 million internet users. The EU has minor internet users in Malta, where a paltry 390,000 access the internet.
The top-5 countries
The following are the top 5 countries with the highest internet penetration in the world.
| | | |
| --- | --- | --- |
| Ranking | Country | Internet penetration |
| 1 | Denmark | 99% |
| 1 | United Arabs Emirates (Dubai) | 99% |
| 3 | South Korea | 98% |
| 4 | Sweden | 97% |
| 5 | Switzerland | 97% |
Therefore, while Germany leads in the number of internet users in Europe—definitely because of its population—its internet penetration rate is nowhere near the top.
Germany's social media landscape
Germany's enthusiasm for social media has grown massively during Covid—19 compared to other European countries. 
For instance, while less than half (45%) of Germans were active on social media as of 2020, two in three Britons were active social media users.
In the United States, social media usage stood at 70% for the same period.
This low uptake has been variously attributed to the following factors:
An ageing population: Germany is in the top-5 of the most ageing societies with Japan, Italy, Greece, and Finland. The percentage of Germans above 65 years stands at 22%. By 2050, a third of Germans will be above 65 years of age. Young people use social media more than the elderly.
Germans are traditionally concerned about privacy—and have one of the strictest data protection laws.
Regardless, social media use is on the rise in Germany, evidenced by the fact that between April 2019 to January 2020, the number of social media users in Germany rose by 2.3 million. This represents an increase of 6.5%.
2.3 Million: The number of new social media users in Germany between April 2019 to January 2020
When it comes to analysing the various social media platforms, WhatsApp leads the pack in Germany. This is how the different social media platforms stack up.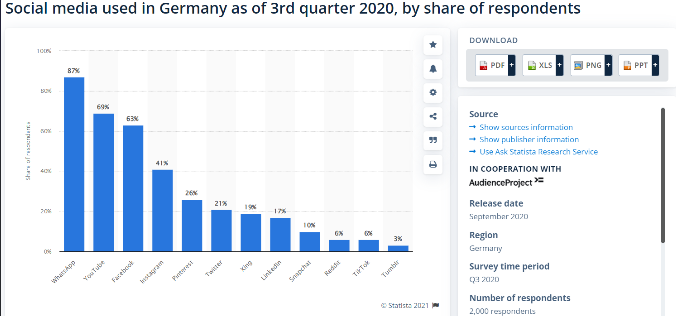 Let's go into the details.
Facebook trends in Germany in 2023
Based on Meta's advertising resources, Facebook had 25.75 million users in Germany, in early 2022.
Facebook usage is steadily going down in Germany. However, Facebook is still the largest social network in Germany. Most users are males aged 25 to 34. As a marketer, if you want to reach your target audience, regardless of their age, Facebook should be among your first social network for digital marketing in Germany.
YouTube trends in Germany in 2023
It looks like Germans love their videos.
YouTube has grown to be the 2. most popular platform in Germany. Based on Google's advertising resources, YouTube had 72.60 million users in Germany, in early 2022.
From a marketer's perspective, YouTube can be a real game-changer. In January 2022, YouTube ads reached 93.1 % of Germany's total internet user base (regardless of age).
TikTok trends in Germany in 2023
Based on ByteDance's advertising resources, Tiktok had 16.99 million users in Germany, in early 2022.
Forecasts show that Germany is one of three countries expected to experience the most significant TikTok user growth in Europe. The others are Russia and France.
Twitter trends in Germany 2023
Based on Twitter's advertising resources, Twitter had 7.75 million users in Germany, in early 2022.
Here are the Twitter audience statistics (2021).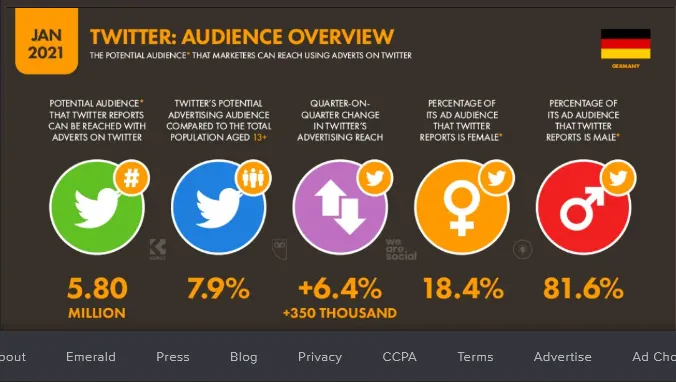 WhatsApp trends in Germany in 2023
At 87% usage rates, just about everyone uses WhatsApp in Germany.
One suggested reason for this high uptake is Germans' fixation with privacy. Other platforms involved signing up your account—and the feeling that you're giving away your data.
Well, not as easy for some.
Also, in an internet-saturated environment, WhatsApp is relatively cheap. In some cases, like where there's WIFI, it's completely free.
Almost everyone (99%)—who has WhatsApp in Germany said they use the app at least once a month.
Snapchat trends in Germany in 2023
Snapchat experienced growth during 2019 and 2020. Based on Snap's advertising resources, Snapchat had 15.30 million users in Germany, in early 2022. However, this growth is expected to slow and plateau, according to eMarketer.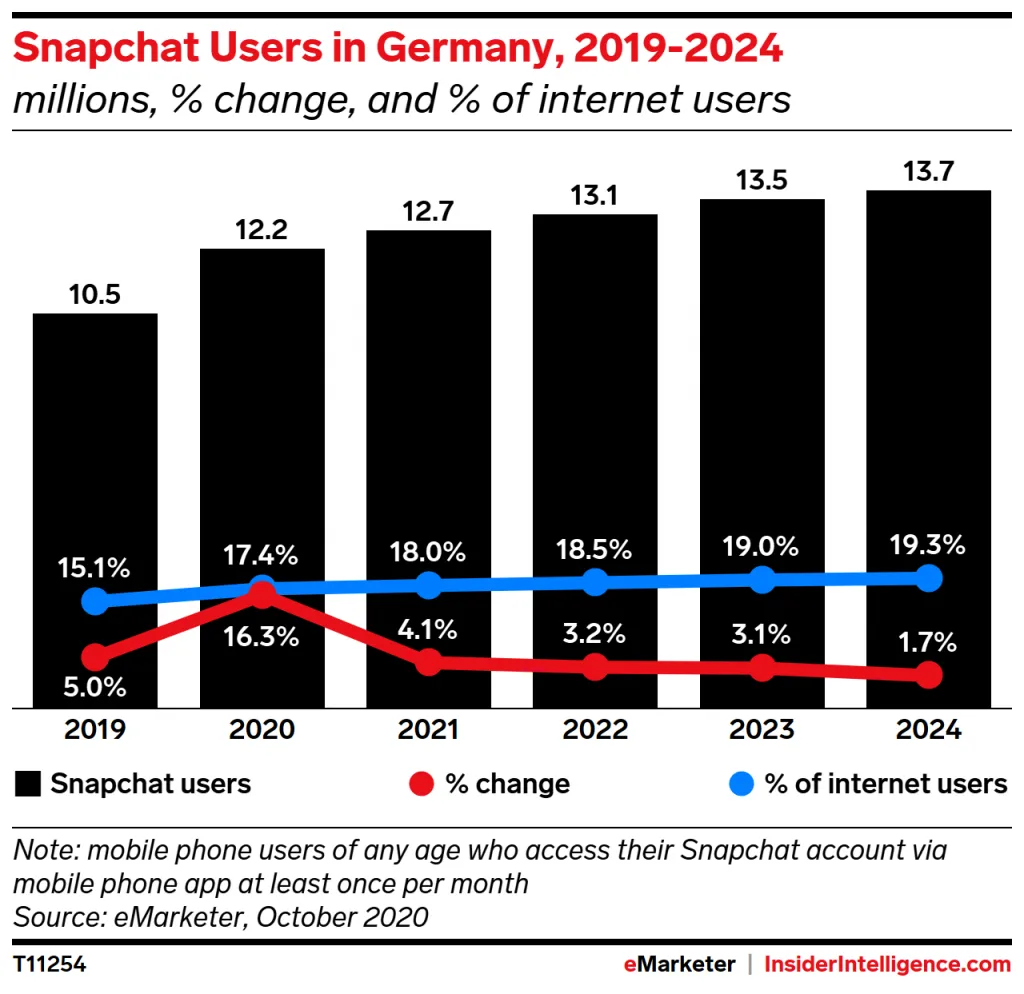 Pinterest trends in Germany in 2023
Based on Pinterest's advertising resources, Pinterest had 15.12 million users in Germany, in early 2022. Germany is second only to the United States for Pinterest users as follows.
| | | |
| --- | --- | --- |
| Rank | Country | Pinterest Users in Millions |
| 1 | United States | 100.75 |
| 2 | Germany | 17.56 |
| 3 | France | 12.22 |
| 4 | UK | 10.75 |
| 5 | Canada | 10.25 |
An interesting fact for marketers might be that 78.4 % of Pinterest's ad audience in Germany was female, while 15.4 % was male.
LinkedIn trends in Germany in 2023
Based on LinkedIn's advertising resources, LinkedIn had 13.00 million users in Germany, in early 2022. A statistic from 2021 shows, that the leading age range in Germany using LinkedIn is between 25 to 34 years old.
However, LinkedIn is underperforming in Germany compared to other countries. The primary reason is that Germany has Xing, the German equivalent of LinkedIn.
Xing has more than 16 million users compared to LinkedIn's 13 million. However, some think LinkedIn may overtake Xing as it's growing faster due to its wide and international reach.
Do you want to leverage social media to grow your business?
Social media has become a popular tool for socialising and digital marketing. Like everyone else, Germans love spending their time on these platforms.
As a business owner, you have the chance to reach these users. However, you don't have to do it alone.
At Gaasly, we help small and medium-sized businesses generate more sales and conversions through social media marketing and search engine optimisation. We can also assist you with social media and the new trends in Germany.
We'll help you:
Gain a foothold in a foreign market.
Leverage web analytics so you can better understand your customers.
Grow your sales and your ROI by up 20 times.
"We have been working with Gaasly for many years now. On average, our sales ROI increased x20 times in sales every month."—Tram Nguyen – CEO of Tramdecor.
Do you want to explore the power of Social Media for your business? Contact our German social media marketing specialists here.
Read more about digital marketing in Germany
The German market is vast: It has the highest population in the EU with 83,783,942 inhabitants and presents an opportunity…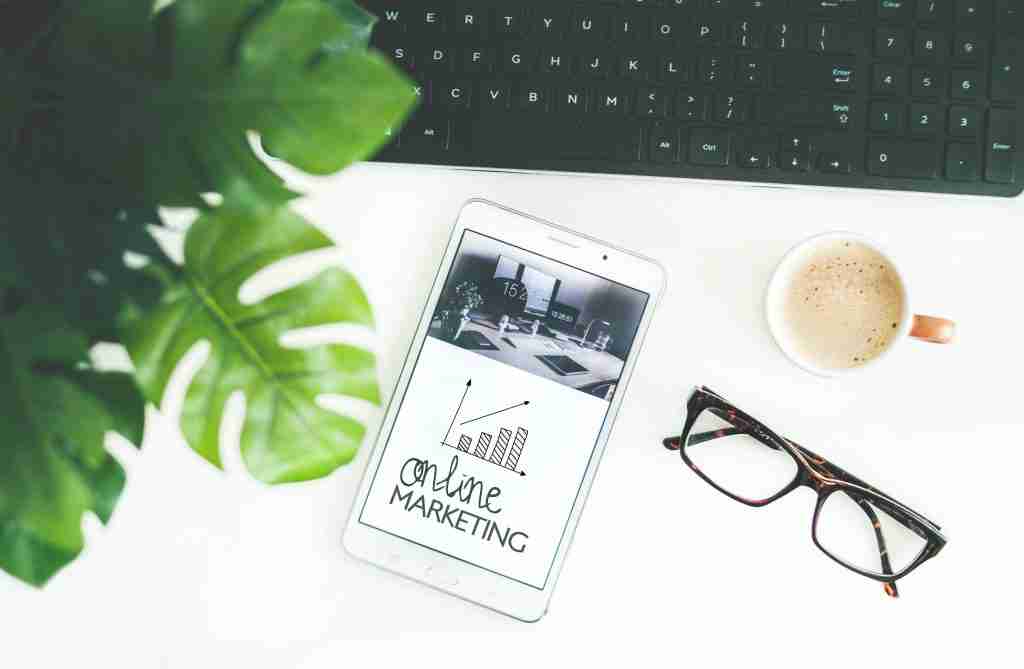 Like much of Western Europe, Germany continues to undergo a digital transformation. About half of the country´s marketing professionals believe that this trend represents…