Advertising agencies act as a gateway to entering the French market. If you plan to launch a business or grow your existing company there, read our complete guide. You will learn about the French advertising market's newest trends and which advertising agencies hire to help you outstand in the crowd.
Gaasly is a local digital advertising agency in France with local experts. We do online marketing to help you generate more sales in France. Feel free to reach out if you want to be assisted in your expansion in France with highly skilled local advertisers. In the meanwhile, enjoy your reading with a warm coffee ☕️
Overview digital advertising market in France
In 2021, most of all digital advertising levers rebounded strongly after the covid crisis with a growth of 24% (€7.7 billion) compared to 2020. The endless innovative potential of digital advertising is the reason for its popularity among start-ups and small and medium-sized companies. The increase in digital advertising in France is also due to a digitalization of the economy which has been accelerating during the Covid 19 pandemic.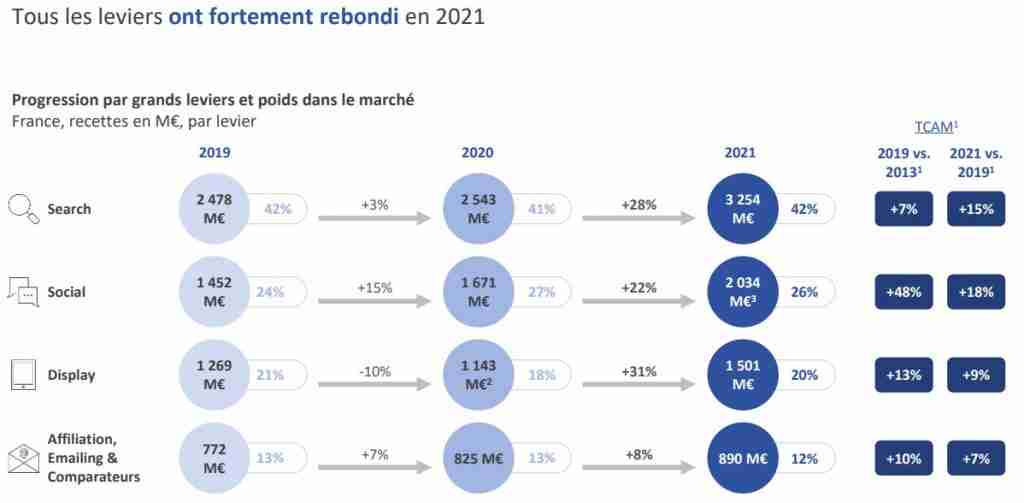 70% of the advertising market is shared by Google, Facebook and Amazon in 2021 .
Important figures to have in mind:
Search is growing by 28% and represents 42% of the market or 3,254 billion euros. This includes in particular the surge in retail search, which now accounts for 12% of search

Social is seeing a growth of 22% in 2021, representing 26% of the market (2,034 billion euros). Social, less impacted in 2020, shows a growth of 22%. This increase is notably due to the dynamics of video (+58% compared to 2020), which today represents 35% of the market.

The display shows very strong growth of 31% (1,501 billion euros) and accounts for 20% of the market. The classic banners show a growth of 16%; special operations (OPS) recorded good growth of +28%; while the audio format saw the strongest growth with +58% in 2021, due to the podcast growing trend.

Affiliation, emailing and comparison sites recorded growth of +8% and represented 12% of the market (890 million euros).
Small businesses are gradually adapting to the digital landscape and Amazon, Google and Facebook are gaining more ground in the advertising market in France. In 2021, the market share of the 3 American tech giants reached 70%. Search engine advertising grew 43% between 2020 and 2021 (considering both search and display networks). Amazon is starting to be a serious competitor in this segment. And Facebook is still leading the advertising on social networks.

Looking for a top advertising agency in France to expand your marketing efforts?
Advertising agencies are an integral part of the modern business world. They help businesses to interact with their audiences, drive traffic to their websites and increase revenue. But there are many ways that any company (national or international) can choose when selecting a digital advertising agency, so how do you know what is suitable for your company?
In the next section we explore some of the factors that international SMEs must consider when choosing an advertising agency for France. It will also provide you with several examples of advertising agencies in France. Advertising agencies will help you to sell your products in France. So let's go! You'll see that hopefully, all the french advertising companies around there are not like Sterling Cooper Advertising Agency in Mad Men 😎
List of the top 10 digital advertising agencies in France for SMEs
Team Lewis is a large advertising agency operating in four different countries with a focus on global marketing and communication consulting. What makes Gaasly different from them is that we are running with a more streamlined team of advertisers. We keep our internal structure as small as possible to deliver the fastest results by focusing specifically on the origin countries of our experts.
Growth You Need is a french advertising agency based in Paris, which core skill relies on data and machine learning. They provide clients with a complete audit & plan, unlimited testing, a team made of data-driven people, 2021 best practices and artificial intelligence. The big difference here is that in addition to tackling your growth challenge with a data-driven approach, at Gaasly we also take into account the cultural landscape of the foreign market you want to expand in. Working with local experts is key to your success.
Hemblem is a french advertising company in France focusing on community management. They offer social media marketing services, with very specific expertise in the food industry (restaurant, brunch etc.). They developed their own marketplace app where companies can book meeting with local influencers and manage their influence partnerships. We at Gaasly are different as our objective is to help companies get a foothold in France by testing various marketing channels: our goal is to find your cost of acquisition baseline on the marketing channel and then optimize this cost. You got it, our approach is pretty different!
Sid Lee is a creative and french advertising agency working globally from Europe & North America. They mostly focus only on communication consulting, video production and creativity. With over 900 multidisciplinary professionals and big clients like Honda, The North Face, KFC or Starbuck… Sid Lee is definitely that kind of big advertising agency hard to work with when you are a small business or a start-up. At Gaasly, we have a team that works as a french digital marketing agency, made of local native experts, and we do not have any set prices. We offer highly flexible work with no contracts, fixed fees, or minimum levels. Total flexibility is our model.
Ecomone is an french advertising company that works on increasing sales from SEO and PPC advertising. This is a young and modern agency, the main plan is to deliver results. What makes us different is our global/local approach. You can have a fancy eCommerce working in the United States, it probably won't be enough to replicate your strategy for France. Call to action text should be adapted to French customers' habits, same with the checkout process, payment method etc. At Gaasly, it's all about your eCommerce and sales, but we also help every customer worldwide by providing our local insights from our senior local market consultants.

Absolute referencement is a French PPC advertising agency, doing Search engine advertising campaigns for medium-sized enterprises. Their approach to search engine optimization is based on producing very long content, with strategic keyword placement, but at some point, they leave beside the UX UI design and the user experience. It's always been the big challenge of SEO: how to combine content SEO friendly with a good web design. At Gaasly we help you to achieve this goal, increasing your SEO ranking on Google France without conceding any aspect of your brands experience.
Junto is a french advertising agency that advises DNVBs, ecommerces, startups and SMEs on digital media buying. They focus on most important online platforms such as Facebook Ads, Google Ads, and even programamtic with Outbrain. Junto offers both technical and strategic expertise. Junto mostly only assist French companies on the french market, they don't necesarly have the international experience of helping companies from abroad to expand their business in France.
Vanksen is a digital agency with PPC advertising experts who assist B2B and B2C companies in setting up their digital campaigns. They help businesses to raise awreness online, get qualified traffic, apps download and sales online. Vanksen works with companies such as Fanta, PSA or Danone. Their agency operates across a wide range of marketing areas, from crisis management to web development. On the opposite, Gaasly only focus on digital growth and we concentrate all our efforts on getting the best ROAS for our clients.
Smart Web Group is a french SEO and PPC advertising company that helps global companies to grow in Europe. They only focus on SEO, linkbuilding and pay-per-click advertising. They doesn't deliver growth services that includes both search engine marketing and social media marketing to support growth. At Gaasly, our french local expert knows the in and outs of both world, they help you out to grow on both channels to get fastest results!
What makes Gaasly the best french advertising company for SMEs?
We specialise in helping companies who come outside of France to do business in France. We have clients from all over the world, and we work with them closely to enter the French market as effectively as possible.
Our approach – native advertisers
Our approach is simple. We offer native senior consultants who have an extensive understanding of French markets. We know exactly how to approach French customers the right way and with the right type of digital marketing strategies, whatever your industry (luxury, tech, travel, food, sports…) and type of business (B2B market, B2C market, D2C market…) are.
Our mission is to assist all international companies to gain this unique foothold. From guiding with SEO to helping each client boost sales and revenue with platforms like Google, Facebook, Linkedin, and more, we always thrive. We build plans and implement them. We help clients and guide them.
Using various platforms and tools, we have a large pool to choose from when we build digital marketing campaigns and more. We are not limited to traditional platforms; we offer more: a brand new type of advertising on the latest platforms like Tiktok.
Advertising and PPC management services
We help companies to increase brand awareness, sales, and revenue with digital advertising services. Our online advertising services include search, display, remarketing, social media advertising, lead generation campaigns, Google Shopping, Amazon or even Stack Over Flow for the tech industry. We have experts at hand for all modern advertising platforms. Advertising management involves your agency working on:
audience targeting
budget optimization
ad copy & creatives
sales funnel UX onsite
conversion optimization
marketing strategy (pricing, offer, messages)
Do you want to enter the French market but you are struggling with your advertising strategy? Feel free to contact us!
Contact us, and let's have a talk!
FAQs
Please note
We will be updating this list annually or when we see significant changes in the market. Data used in this blog post is from January 2021 to October 2021.
How was this list of French advertising companies created?
We invest large amounts of time and money in digital marketing on Google Ads, specifically with a clear focus outside France. We have been doing this for an extended period now, and all of our Growth partners have senior status. One of our essential core features within Google Ads is Auction insights. This tool helps us identify and analyse other companies targeting the exact same keywords outside of France as we do. We therefore clearly analyse available competitors' data to gain an advantage for our clients.
Many times, competitors are actively reaching out to clients outside of France. Large sums are invested in advertising outside France. By investing in marketing outside France, they have designed their offering to international clients. While working with clients from different countries, they have learned about other cultures and how to work effectively with companies from diverse backgrounds.