Hi there, we wrote this guide to help you get the new 2022 ecommerce trends for France at hand!
As you probably know, the e-commerce market in Europe has seen major growth in the last few years. In fact, e-commerce revenue is expected to have grown by 30% versus before the pandemic. Just compared with the year prior, 2020 saw an increase in revenue of $71 billion in European e-commerce value. The COVID-19 pandemic in 2020 and 2021 has led to bumper growth in France in particular as well.
In 2020, the e-commerce market in France had a value of around $114 billion. By 2026, experts predict that number to almost double to $203.57 billion. With a CAGR of 10.04%, this growth is one of the fastest in the European e-commerce market. Below, we go into more of the e-commerce trends in France in 2021 to establish where the market is going in the near future, and what specific aspects of e-commerce are performing best.
Want to expand your digital marketing in France?
Need the expertise of french native experts? Discover our French digital marketing agency, we help you to gain a foothold in France. We increase your sales through social media marketing, branding, PPC management, SEO optimization and more. We can launch your brand in France within 2 weeks.
An overall view of the online shopping trends in France in 2021
1. French ecommerce market size and revenue
The context of the health crisis led to a new increase (the largest since 2015) in the number of online buyers, with 1.5 million new buyers among all populations. Today, 41.6 million French people buy online, i.e. 81.4% of Internet users. Online shopping has enabled many French people to continue to consume and purchase goods and services while limiting their exposure to health risks.
Experts predict that total revenue in the e-commerce market in France will reach around $59 billion in 2021, with a growth rate of 5.68% in the next five years, reaching nearly $72 billion by 2025. The number of users in the e-commerce market in France is expected to rise to 51.5 million in that time, and user penetration will jump from 74.1% in 2021 to 78% in 5 years' time. Compared with the average across Europe, total internet penetration is almost 15% higher in France.
Ecommerce market is expecting a grow at a rate of 5.68% in the next five years
The average revenue per user in 2025 is expected to be around $1432. This is much higher than the expected European average of $999 per user. This year, 93% of all e-commerce purchases in France will be domestic, and more than half of them will be paid for by cards.
2. M-Commerce (mobile ecommerce)
Importantly, a growing share of eCommerce purchases in France occurs on mobile devices due to the pandemic of Covid 19. France was suffering one of the lowest market shares in the European Union for mobile commerce, with less than 25% of online sales completed on mobile. Most French merchants prepared themselves for rising mobile commerce in the next year and the lockdown has accelerated this process.
The market share of mobile commerce is now around 40% and CAGR is about 17%.
In 2021, the market share of mobile commerce, or m-commerce, is now around 40%, representing $32 billion. With more than 28 million users buying items on their mobiles, it's a key area to target if you're a business owner or online retailer looking to maximise your reach in 2022. But what sections of the e-commerce market are performing best in France in 2022?
3. The role of fashion in France's e-commerce market
France is almost synonymous with fashion, with Paris being an official fashion capital. It ranks up there with the likes of Milan, London and New York, and the country has seen some of the most famous names within the fashion industry capture audiences across the globe. Therefore, it's no surprise that fashion is the largest component of France's e-commerce market. In 2021, the e-commerce fashion market in France is estimated to be worth just under $22 billion.
Fashion has always been an important aspect of France's culture, and while it is known the world over, it is of course one of the staples of e-commerce within the country too. French people are fairly price-sensitive, making offers, discounts and sales very lucrative opportunities for businesses. This appears to stand no matter whether the brand is a luxury brand or a discount store. This is largely due to the fact that you can find vast selections of all kinds of brands online, whereas the discount store used to only be profitable as a brick-and-mortar shop. Ease of delivery has opened the door to brands both small and large.
4. Other major industries
Faced with the health crisis, the French bought online all the categories of goods they couldn't find in shops during lockdowns and many of them continued to do so between lockdowns rather than going back to the shops—for nonfood and food products. The average transaction amount increased again after eight consecutive years of decline.
Given that fashion accounts for 29% of all e-commerce revenue in France, where the fashion market goes the rest of the e-commerce market will likely follow. However, other markets within the wider e-commerce market in France that have at least 20% apiece include toys, hobby and DIY, and electronics and media. It probably comes as no surprise that the main company behind these industries in France is Amazon.fr. With revenue of $6.5 billion in 2020, Amazon brought in almost 3 times as much as second-place cdiscount.com.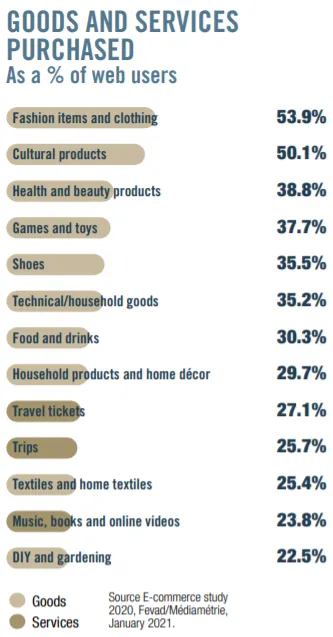 5. The market is growing
However, taking a wider and more general look at the e-commerce market in France, it's clear that more and more people are choosing online over brick-and-mortar stores. Largely due to the impact of COVID-19, internet traffic in France increased by 70% during March and April 2020.
This continued into 2021, but it's not just everyday internet users that have increased in volume. The number of e-commerce websites in France has grown rapidly over the last three years as well. In 2019, there were just over 191,000 e-commerce websites in France. A year later that had risen to more than 200,000.

Online shopping trends : the buying behavior of French customers
1. Profile of the e-buyer in France
41.6 million French people buy online 1.5 million more compared to 2019 amounting to 81.4% of web users (compared to 78.4% in Q4 2019).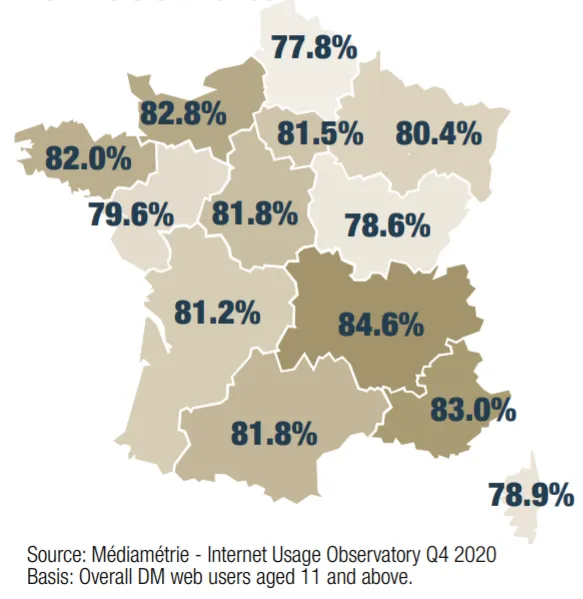 2. Delivery method used: how do people get their items?
When considering e-commerce trends in specific countries, it's worth taking a look at how people receive the goods they pay for. In France, the overwhelming share of the delivery market goes to La Poste. Accounting for 68% of the shipping market in the country, La Poste is the clear winner. Following in second and third place are Chronopost and Mondial Relay, with 38% and 29% of the market share respectively. In this unusual year, shoppers continued to favour home deliveries to receive their orders, but also use click and collect much more, which merchants promoted during lockdowns to deal with the influx of orders. 20% of e-buyers have used at least one express delivery service in the past three months
20% of e-buyers have used at least one express delivery service in the past three months
3. Payment method: how do people pay for their product?
Bank cards are the main method of online payments, with instalments becoming increasingly popular payment solutions. Another trend is the growth of e-wallet payments.
| Payment method | Payment split (%) |
| --- | --- |
| Card | 54% |
| Digital Wallet | 21% |
| Bank transfer | 14% |
| Cash | 7% |
| Other | 5% |
Source: J.P. Morgan Payments Trends, 2019
The importance of having an online presence
From a business point of view, having an online presence is key in any country. However, in France, it's absolutely vital. The French have a large degree of scepticism about websites based in other countries and prefer to shop on sites based in their home nation. This is because 60% of online shoppers in France feel a lack of trust towards foreign sites. This means e-commerce businesses in France have a natural edge over foreign competitors.
Conclusion: The future of e-commerce in France
The e-commerce market in France is clearly following similar trends to the global e-commerce market. With more and more of our interactions moving online, as a result of increased digitisation and the COVID-19 pandemic, it's only natural that we move most of our purchases online too. The e-commerce market in France is likely to continue to grow, with the rising mobile share being an increasingly important factor as businesses must optimise their operations for those users.
Read more about digital marketing in France
In this day and age, the digital world comes first. People around the globe have multiple devices which allow them to be online 24/7 seven days a week. Because of …

Black Friday has been a staple in the retail industry for years. Does France participate in Black Friday? The short answer is yes. The Black Friday phenomenon has taken the …

Get your free eBook French consumers behavior – a new marketing study Download our new research to discover +20 essential statistics about French consumers' mind and what they expect from …
Sources
https://www.fevad.com/wp-content/uploads/2021/09/EN-FEVAD_CHIFFRES-CLES_vdef_def_EN-VF.pdf
https://www.statista.com/outlook/dmo/ecommerce/france#key-market-indicators
https://www.mordorintelligence.com/industry-reports/france-ecommerce-market
https://ecommercedb.com/en/markets/fr/all
https://www.statista.com/statistics/382964/number-of-active-e-commerce-websites-in-france/
https://internetretailing.net/rxgeu/rxgeu/european-ecommerce-revenues-jump-30-to-us465bn-in-2021
https://www.jpmorgan.com/merchant-services/insights/reports/france-2020
https://www.jpmorgan.com/merchant-services/insights/reports/france