Social networks in France have been a driving force for the French market throughout the pandemic of Covid 19. Facebook is not the anymore the indisputable leader when it comes to social usage in France. French consumers look toward other social platforms and have their own habits, depending on each market and demographic segment.
In this guide, you will find key figures and insights to address the French audiences through social media. res. France has a reputation for being an innovative country with strong local brands and quality marketing. Keep an eye on this to grow your business in France.
Need more extended help to grow in France? Gaasly is a French digital marketing agency with French experts at hand. Benefit from our local expertise and global experience to gain a foothold in France.
The social media landscape in France
Penetration of social media
Social media France is a country with 66 million people, where:
60 million use the internet (+2.5% over one year),
50 million active users on social networks, which is 76% of the population
5.6 million new social network users in France in 2021
1h36 of time spent daily on social network
Social media is not a detail anymore, it must be the core of your marketing strategy if you plan to grow your company in France.
| | | | | |
| --- | --- | --- | --- | --- |
| | Facebook | Instagram | Snapchat | TikTok |
| Monthly Active User | 43M | 24M | 25M | 14,9M |
| Penetration | 64% | 36% | 35% | 22% |
| Women | 51% | 54% | 53% | 56% |
| Men | 49% | 46% | 47% | 44% |
Average time spent on social media
On average, French consumers spent 1h36 on social media per day, which is actually a low average compared with other countries like Italy, Portugal, Argentina and the United States.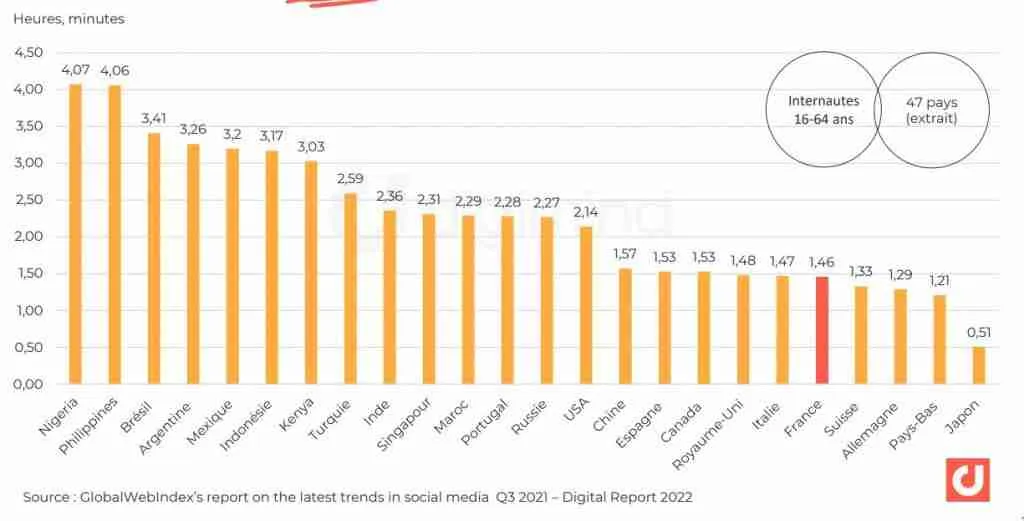 Looking at these averages we can see that wealthy countries spend less time in general on social media. Poorest countries like Nigeria, the Philippines, Brasil, and Argentina spend two times more time on social media than France, UK, Germany and Netherlands.
It is quite challenging to find the exact explanation for this correlation. We can see there a kind of age graph where poor countries have younger populations more important in proportion than developed countries, and we know that young people spend more time on social media than old people.
For example, the age group of 15-29 is less important in proportion in France (17% of the French population) than in other countries. Naturally, this pulls down the average daily time spent on social media.
Most used social platform in France
Contrary to the global trend that places Facebook in the lead, nearly 8 out of 10 French Internet users connect first to YouTube (79%), ahead of Facebook (74%). Behind, the messaging application Facebook Messenger completes the podium (58%). Instagram (49%) and WhatsApp (49%) head to head, allowing the entire Facebook ecosystem to dominate the French market. In the rest of the ranking, Snapchat is ahead of Twitter and Pinterest, Tik Tok is positioned behind LinkedIn.
Below is the number of users a company can reach through advertising on social media in France:
YouTube: 49.6 million users
Facebook: 33 million users
Snapchat: 24.5 million users
Instagram: 24 million users
LinkedIn: 21 million users
Pinterest: 12.22 million users
Twitter: 8 million users
The top 10 social message apps by age group
The most important messaging apps across the population are Facebook, Snapchat and Instagram. Tik Tok is exponentially growing among the youngest population. As a company doing marketing in France, being present on Snapchat, Instagram and Tik Tok is definitely a winning strategy.
15-24 years old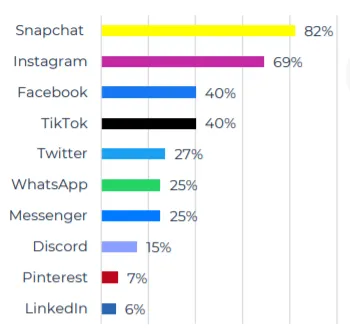 25-49 years old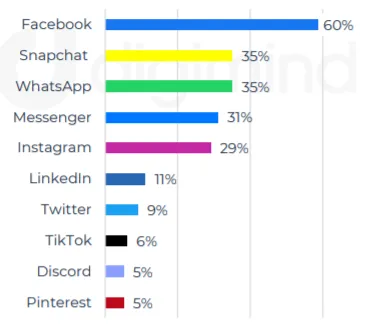 +50 years old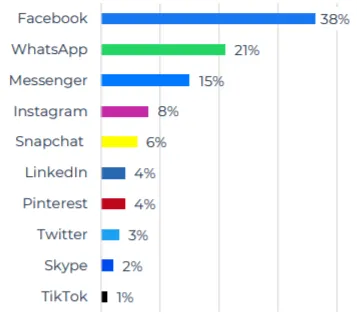 Social media trends and usage in France
Instagram: fashion & beauty
Still one of the top social media platforms for marketing in France, Instagram has the reputation to be the one most people turn to when they want to see beautiful & inspiring pictures.
Demography of French Instagram users
50,6% of French Instagram users are women versus 49.4% of men. Distribution is almost perfectly equal in 2022.
FRench users of 18-34 years old represent 57% of all Instagram users in France, versus 27% of the 35-54 years age group. Instagram is a strong social media platform for the millennials generation (born 1981-1996) and the Z generation (born 1997-2005) in France.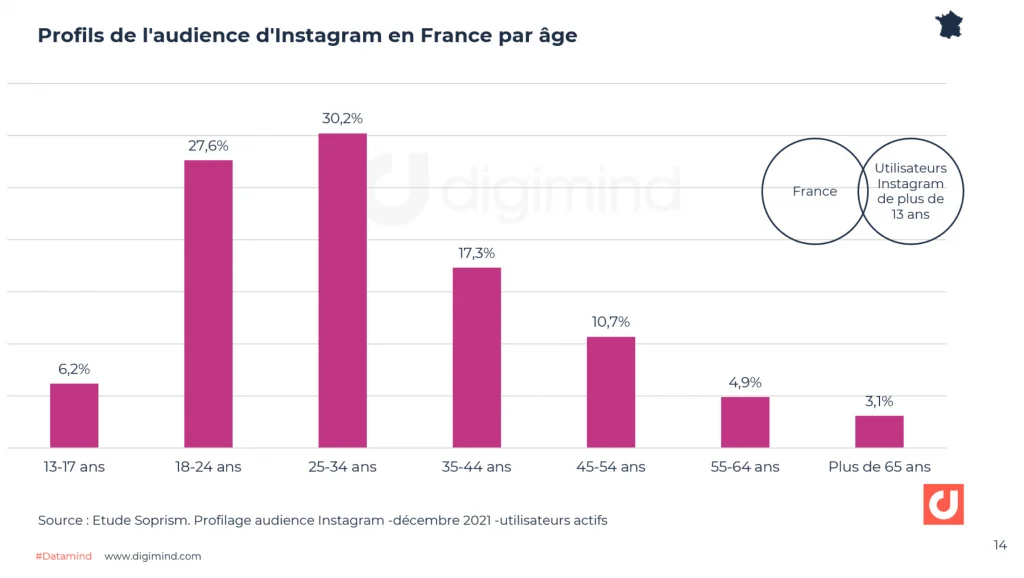 89% of the Gen Z people use Instagram (18-25 year-olds) daily in France, which shows strong loyalty toward the social platform. 34% of "Gen Z" individuals use direct messages on Instagram to interact with their communities.
Topics of interest on Instagram for the French Z generation
Z generation is structured on Instagram around common interests and passions. The topics of most interest to Generation Z in France are
travel (39%)
fashion (39%)
beauty (35%)
music (34%)
well-being (30%)
food (28%)
As a result, the content value will beat production quality in 2022. Most users say their decision whether or not to follow someone is based on aesthetic appeal rather than branding, which emphasizes creativity and authenticity.
This is in addition to the growing trend of shoppable content, a relatively new feature on Instagram that allows users to shop in-app. Since the pandemic, this form of shopping has exploded in popularity.
In 2021, an average of 130 million Instagram users worldwide tapped on a shopping post every month. Instagram, in conjunction with Facebook, truly remains the most popular platform from a customer standpoint.
Snapchat: friendliness & creativity
Since being introduced in 2011, Snapchat was one of the fastest-growing social networks. In fact, it's been named a top platform by teen users, with around 90% logging on daily and sending 4 billion snaps per day.
Demography of French Snapchat users
In France, nearly 25 million Snapchat users post snaps, most of which do so every day. France is the second most important market for Snapchat in the world! The continuous shift towards video content continues, as brands find it is the best way to capture their audience's attention. In 2021, more than 9 out of 10 people will agree that watching a video on social media is more engaging than pictures.
In France, 53% of users are women, 47% are men. The audience in France by age and gender breaks down as follows:
13-17 years old: 14.9% (6.9% M and 8% W)
18-20 years old: 15.6% (7.5% M and 8.1% W)
21-24 years old: 17.1% (8.7% M and 8.4% W)
25-34 years: 24.8% (12.9% M and 11.9% W)
35 years: 27.2% (10.6% M and 16.6% W)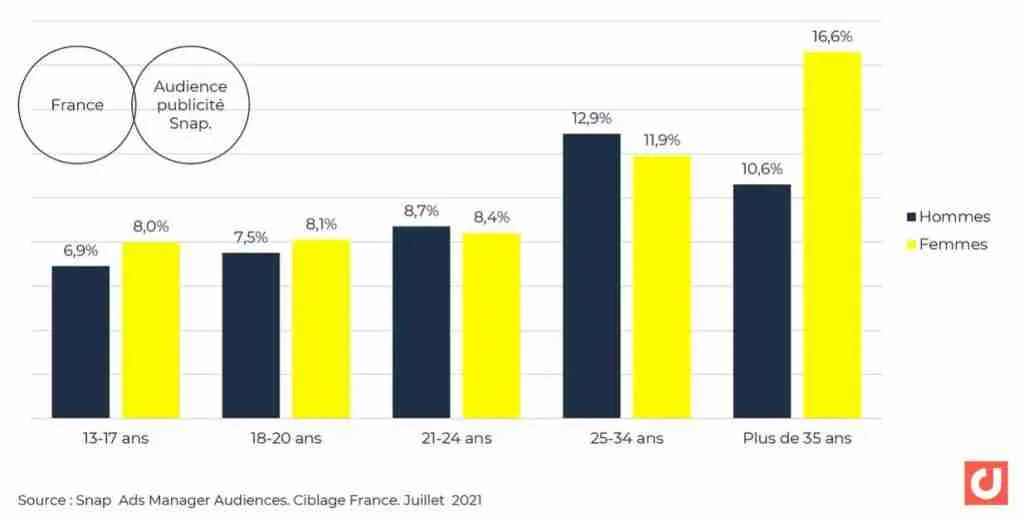 Snapchat's audience is exclusive to certain segments, both worldwide and in France. It means that a significant number of Snapchat users do not use other social networks. For example, 40% of Snapchat users in France do not use YouTube on a daily basis, 38% do not use Instagram, and 53% do not use Facebook, 86% do not use Twitter.
Why do French people love Snapchat so much?
The social network is seen as "the application for friendship". While most social networks give strong priority to brands or partnerships, French users fall back on Snapchat which still keeps its initial promise. 90% of users say they enjoy sharing and celebrating moments of their lives on the platform, and 54% of them confirm that having fun has become a key value.
5 emotions are associated with the social network: joy, tolerance, creativity, cohesion and spontaneity. Snapchat responds to the primary use of social networks: entertainment. When others have turned into an advertising platform. While Facebook and Instagram are still the kings of the social media scene, many brands are shifting their budgets towards less crowded platforms like Snapchat and Pinterest. This is because the sense of community is often stronger on these platforms, plus they allow for more engaging content since there are fewer algorithms involved.
Snapchat is also considered the best place for creativity and creating outstanding content. With its Lenses filters, AR (augmented reality) and VR (virtual reality), Snapchat revolutionizes the way people create content. There is an increasing number of brands creating custom lenses and filters on Snapchat Stories. This gives brands yet another format for engaging their audience. Louis Vuitton is one of the most famous examples of this trend with their LV filters.
On the other hand, Snapchat expand its "Discover" section in France, which offers native content produced by prestigious media to retain its audience and attract advertisers. Launched in 2016 with eight partners (Le Monde, Paris Match, L'Équipe, Melty, Cosmopolitan, Vice, Konbini and Tastemade), "Discover" has since welcomed some forty media (BFMTV, 20 Minutes, Brut, Vogue, Society, France TV, Topito, MAD, Arte etc.).
Snapchat is a kind of all-in-one place, well designed for entertainment, information, private chat and sharing life's moments. This is why French people love it!
Pinterest : inspiration & planning
Although many people think of Pinterest as a platform for finding recipes or DIY crafts, it is now a commonly used platform for shopping. As the 7th largest social network in France, Pinterest continues to grow at an annual rate of 5%.
Demography of French Pinterest users
Pinterest France currently has roughly 12 million users in France, which represent 17% of the French population. 67% of users are millennials: of these. A trend that continues on Pinterest is its largely female user base. Around 60% of its users in 2020 were women, and these female users are highly active in social media. The majority of Pinterest users engage with at least one pinned post every single day. The majority of active "Pinners" belong to the quarantine category.
35% of Pinterest users are between the ages of 35 and 49, that's Generation X.
34% of Pinterest users are between the ages of 18 and 35, that's Generation Y.
The majority of users are women (60%) although more and more men are visiting the platform. CSP + are also over-represented (44%). Considering itself as the last haven of happiness on the Internet, Pinterest is asserting itself as a network "for itself"! An ideal setting for brands.
Use of Pinterest in France
Most people go to Pinterest for inspiration, to prepare an event (travel, wedding) and purchase. The percentage of Pinterest users purchasing through the platform has jumped from 50% globally in the first half of 2020 and has kept climbing steadily since then.
80% say Pinterest helps them find what they want to buy, 72% use visual space to connect with brands they love, and 71% visit Pinterest for recommendations on what to buy. Pinterest remains a popular brand engagement tool, allowing users to follow boards and get daily inspiration.
55% of subscribers use Pinterest to make purchases
87% of Pinterest users bought something they saw on the platform.
61% of users have discovered new products and brands via the "promoted pins"
1 in 2 made a purchase after seeing a "promoted pin"
58% of Pinterest users find that the platform helps them make purchasing decisions
85% of users say Pinterest helps them start new projects
64% say the platform helps them find new ideas, products and services

TikTok: fun & entertainment
Probably the social media platform in France that grew the most this past, TikTok has taken the world by storm, surpassing 1 billion users.
Demography of French Tik Tok users
While it is not as used in France as the other platforms like Snapchat or Instagram, Tik Tok is mostly being used by teens. There are 14,9 million users in France (penetration rate of 22%). 56% are women and 44% are men.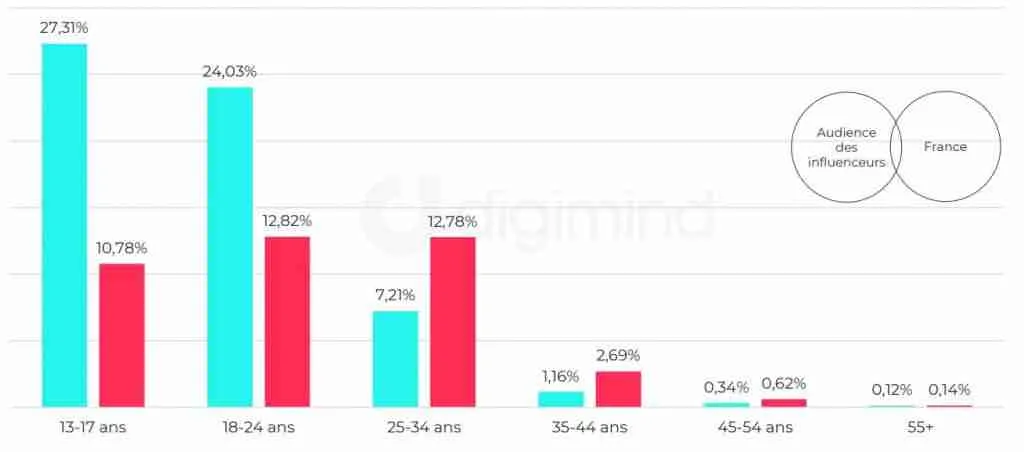 If we look at the age distribution: 37% of all users are between 18-24 years old. And 30% are between 13-17 years old. 70% of all users are above 18 years old.
Usage of Tik Tok in France
French people monthly spend 21 hours on Tik Tok, with a daily average of 24 minutes. In terms of time spent, Tik Tok is far away ahead of Facebook and Instagram.
In 2021, brands will also have to adapt their strategy to this platform as the number of users grows. The main goal for TikTok users is bite-sized entertainment and fun, so French brands will have to integrate the TikTok ecosystem by contributing short and snappy videos. To get inspired for your next video, we have at hand a Spotify playlist with the most popular TikTok sounds in France:
Collaborating with influencers is also still very viable. One of the most interesting examples is Nicholas, a famous French blogger who became TikTok famous in 2019 and now has 2.7 million followers. He uses it to share his life with fans and promote brands that he's partnered with. Louis
LinkedIn media: B2B & personal branding
Demography of French LinkedIn users
The sense of community on LinkedIn is strong, and it's still one of the best places to find like-minded professionals in France. In 2021, this platform is expected to continue dominating the professional industry, as it encourages professionals to keep their profiles up-to-date and active.
LinkedIn will become a social platform in France that thrives on content marketing strategy. As a platform where businesses connect with professionals and talent, one has to create engaging posts to stay relevant.
The platform is still extremely popular with young professionals. They're typically aged 25-35 and use the platform to stay informed on new job changes and industry news.
While not all businesses and french companies can benefit from a LinkedIn marketing strategy, if you are a freelancer or small business, this can be an effective way to grow your network and promote your talent.
Final thoughts
As content marketing trends grow, brands will have to adapt to a new tone where they focus on providing quality content. We still see users craving short-form videos and snackable content.
There is also an increase in live streaming, augmented reality, and virtual reality experiences. As more users join TikTok, French brands need to start thinking about how they will engage with users on the platform.
While more and more consumers prefer content over products, this doesn't mean they're not interested in buying. Experience-based marketing is here to stay, as brands need to provide a narrative around their products that encourage sustainable consumption.
FAQs