Many of our clients wonder how to grow their business in France. The biggest mistake they make when expanding internationally is to replicate the same strategies used in the country of origin. For instance, French consumers are a lot different from those from the U.S. or other European markets. By the way, the concept of a global or world market is a kind of illusion. All marketers should consider that local markets have their own specificities.
With this being said, how to expand and grow your sales in France? France is the 3rd most important European economy and one of the best places to export your brand. Today, we're going through essential digital marketing strategies that will support your presence in France.
Who are we? Gaasly is a digital marketing agency with French experts at hand. You can benefit from our local expertise and global experience for your business growth in France. Our native experts are responsible of assist you in your growing process abroad. Feel free to reach out if you want to be supported in your marketing expansion. In the meanwhile, enjoy your reading with a warm coffee ☕️
Use social media to support your sales
When it comes to France, businesses use social media to a great extent. SMEs use a wide range of social networks. The most used social networks are Facebook, Instagram and Twitter. To get a deeper understanding of social media in France, read our Guide about Social media trends & figures in France in 2022.
Social media is not only about growing a community, publishing posts and doing community management. It is also about doing advertising. According to Statista, in 2019, mobile advertisements reached 914 million euros in France, which is roughly +15% more than the previous year. Furthermore, the classic desktop ad investments generated around 76 million euros in 2020, which is +7.6 % more than the previous year.
4 reasons why you should consider social networks for supporting your growth in France:
you can get your first sales and be profitable in France in a very short time
it's a probably the fastest way to test your product-market fit
you can test and learn with a huge amount of data provided by advertising platforms
cost of advertising is very low compared with traditional channels
Do SEO to boost your organic traffic
Not all companies are present on Google and selling online in France. The chart below shows the share of companies, by industry, that received orders in France in 2018 through search engines. Retail trade companies, Accommodation & Food services or vent Wholesale commerce companies are eating a big piece of the online market. Nevertheless, Transport, Storage, Scientific activities and so on… are great segments to gain quick visibility on Google.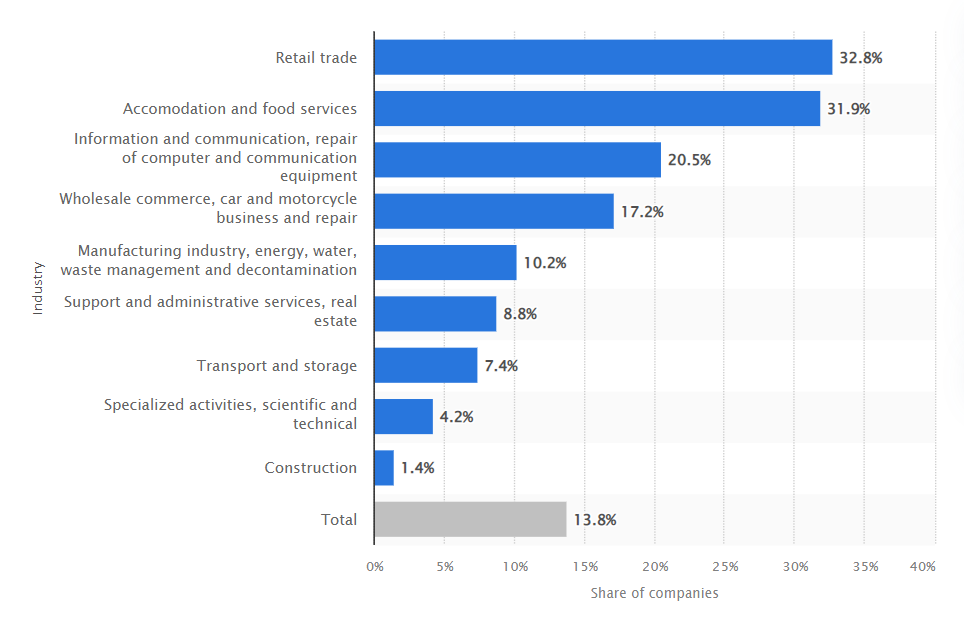 Before you start an SEO strategy in France to support your business online, first check your industry, and segment and make keyword research to know what people are searching for! Keywords and contents are the best opportunities to develop your online presence in the long term. Publishing a small piece of content is an underestimated action for your business. Seriously!
4 reasons why you should consider an SEO strategy to foster your development in France:
Pieces of content remain on search engines (in general!)
SEO is a short investment and brings long term results
Content gives deeper information about your product to customers
Pieces of content can be recycled into other formats, for multi-channel broadcast
Pieces of content can be used for advertising
Take care of your language: french first
French people usually search for phrases in their native language. So, never create word clusters containing two different languages. Choose French names instead of English-French ones, as you will confuse site users and google robots. Many French people still don't feel comfortable with English and only buy online on French websites.
Work on translation
Keep in mind that keyword phrases that work in a particular country probably won't work the same way in the French market. So, try to translate phrases and examine which of their synonyms are used in both official and colloquial speech. For instance, you're dealing with travel services in France, which many people are now looking into, as countries are opening borders. Don't translate just by using Google translate, but make sure which terms are mostly used by French native speakers.
Find a native speaker
If you want your digital marketing in France to succeed, it is advised that you work with a native speaker. If you're not familiar with French syntax, accent, and slang, a native speaker will help you avoid various language issues during work.
Google doesn't recognize two pages with the same content in different languages as duplicates. However, it is advised that you take the time to translate texts properly instead of doing it mechanically. Your content should include both slang and cultural elements of France. Therefore, cooperating with a native speaker is vital for your digital campaign's success.
Retain your customers with email marketing
Email is key to your success if your want to foster better client relationships with your french customers. When we look at email campaigns on a global level, we can see an interesting trend. Namely, the number of emails increases across all clients in odd weeks and decreases in even weeks. Nevertheless, this bi-weekly trend isn't happening in France, as there is an increase in mailings in the third week of every month.
When we looked at email marketing trends in France, we noticed that the best performing type of content were newsletters (42%) and the lowest was fund factsheets 22%. The highest click rates were observed for event invitations (11%) and the lowest for market commentaries. This shows us that France has lower click-to-open rates when compared to global statistics or with other European countries.
When creating an email campaign, e-marketers must consider some crucial points such as data privacy, compliance with a variety of laws, unique consumer experience, and bandwidth acceptance. The French people are very sensitive when it comes to email marketing and despise spam just as other Europeans. Therefore, it is advised to use the services of professional email marketing companies that have a vast knowledge of local markets.
3 tips for fostering your client relationship and increasing your sales by email in France:
Try to help your customers with valuable content
Deliver personalized offers to make your customer feel unique
Ask feedback through surveys, announce new products
Get help to grow your business in France
As we can see, digital advertising in a foreign country isn't a walk in the park. There are many laws and details you need to research before starting to do marketing in France. Changes in government after elections and economic growth trends are also important parameters. Still, if you play by the rules, offer something unique, and embrace the cultural difference, you are more likely to succeed in France.
Do you need the expertise of french native experts? Discover our French digital marketing agency, we help you to grow your business in France. We increase your sales through social media marketing, branding, PPC management, SEO optimization and more. We already helped many global startups and SMEs to thrive in France. Contact us to launch your business within 2 weeks.
Contact us, and let's have a talk!
FAQs