If you are looking to expand your business or increase your revenue in France (Paris, Bordeaux, Marseilles, and even smaller regions), you will probably want to leverage online marketing channels to find new customers. Search engines come to be a priority since SEO still remains one of the most profitable marketing channels in terms of ROI. So you will need a good French SEO strategy to rank on local keywords and acquire new clients.
The conquest of the French market can be tricky due to its specificities. French consumers' behaviours, habits and language are somehow uneasy to understand by foreign companies. In this complete guide about French SEO, we'll give you tips & advice to sustainably develop your SEO strategy in France. Search Engine Optimisation is a long-term game, you will have to be patient. On this journey full of pitfalls, getting the help of a local French marketing agency with experienced French SEO experts will be key to your success!
Keep up on the last SEO trends in France
Internet users in France
In 2021, there were 59 million internet users in France.
92% of French people have access to the internet in 2021 (+2,5% vs 2020)
90% of all the French territory is covered by 4G. While the 5G increased since 2021.
83% of French internet users actually use the web on a daily basis (vs. 6% once or twice a week)
68% of French internet users connect on a daily basis through mobile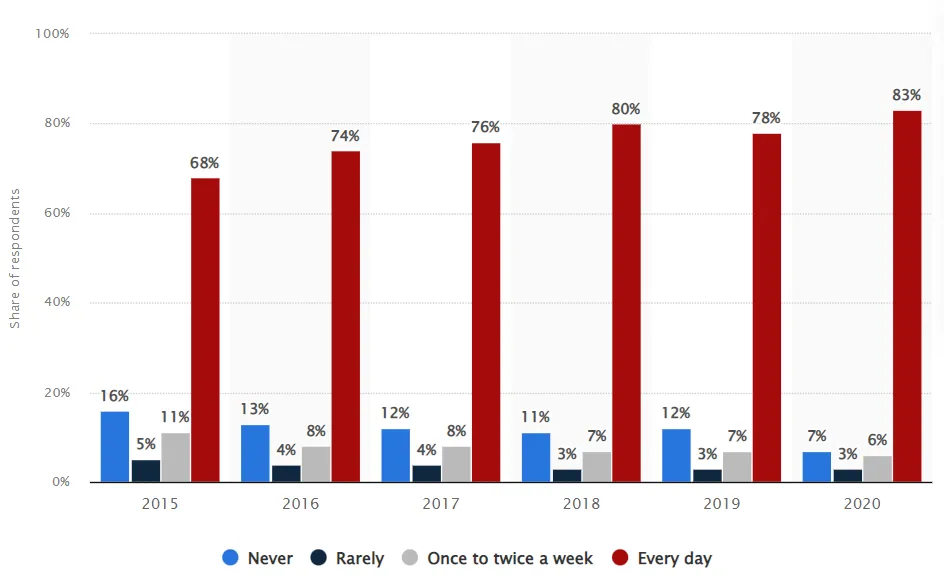 Considering those numbers, French SEO marketing is key to success for any company that wants to sell online in France.
Search engine market shares in France
When we talk about French SEO, it's crucial to consider that French people use the Google search engine almost exclusively. In France, the market share of Google is about 80% for desktop and 97% for mobile. So you actually don't have to worry about ranking on other search engines.

French SEO and French-speaking countries
Among the benefit of implementing a French SEO strategy, reaching French-speaking customers across the world is not insignificant! The local French market represents 59 million French users, but if you encompass all the French-speaking places in the world, considering for example regions from Canada, countries from North Africa or the South-Est of Asia, the number jump over 300 million people.
The community of French-speaking people is called the Francophonie is has its own international organisation. More than 25 countries are involved:
Over 300 million French-speaking people in the world in 2021
French is the 5th most spoken language
Estimated to 700 million in 2050 (8% of the global population)
More than 60% of French-speaking people are based in Africa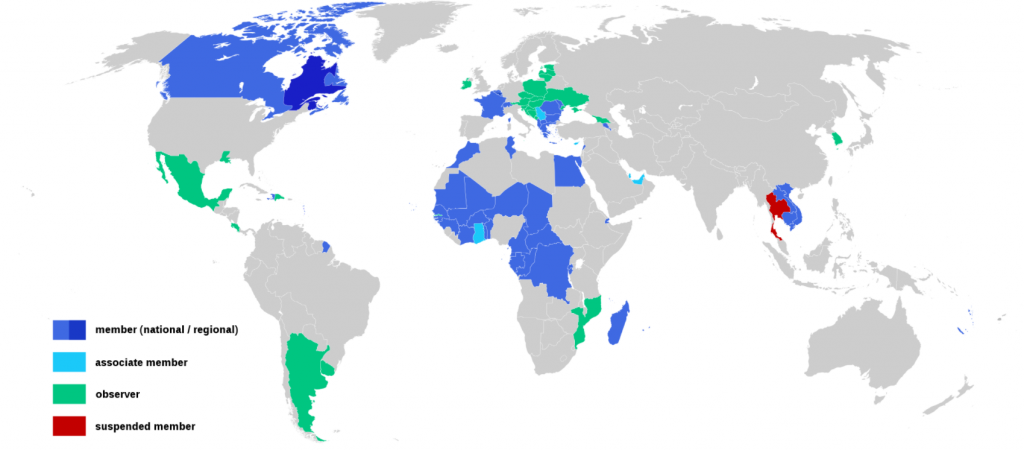 French SEO gives you the opportunity to target rich countries like Canada, Belgic or Morocco. And also emergent markets like Ghana or Nigeria in Africa.
Most searched keywords in France
When it comes to local SEO, it's always interesting to have in mind what are the most searched topics. In France, in 2021, the most searched keywords on Google were:
Facebook
Weather (it's also the 6th most searched keyword but with the accent on the word "météo")
Coronavirus (which comes as no surpirse regarding the context)
Google (yes French people search for "Google" on Google itself, and Safari too probably!)
Youtube
Bon Coin (whish stands for leboncoin.fr, the biggest local marketplace, with Amazon)
TV Program
Attestation (for Covid-19)
Amazon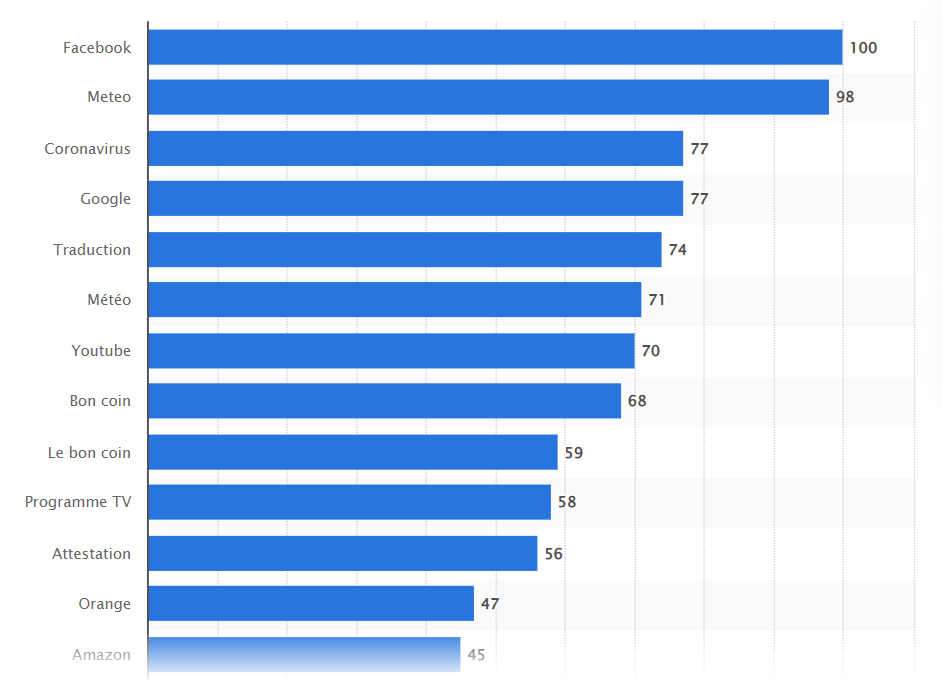 On the other hand, a little dated survey from 2017 about the connected population in France reported that 67% of French internet users used to use the internet for administrative tasks, and 61% for online shopping. Over half (54%) said they were going online for work every single day.
French consumers behaviour
French consumers usually don't fall for the "premium" or emotional argument. Don't try to get them with the old rough marketing tactics. Unfortunately, using a huge red banner on your store or a ton of superlatives won't make the job. For French audiences, those tactics send a bad signal and generate mistrust instead of engagement. Same with very catchy call-to-actions and intrusive messages.
Keep in mind that French consumers are:
price-oriented but not willing to compromise on quality
receptive to new ideas but sometimes need time to adopt new habits
logic and intellect, they need all the information before making a decision
tend to trust only high-quality french language content
going organic and towards a new sustainable consumption mode
paying online with credit card (60%) and PayPal (25%)
big fans of Click & Collect (also called Click & Drive) systems
paying a lot of attention to their privacy protection online
In terms of SEO for France, one interesting point is that French people are big fans of Click & Drive systems, which consequently tends to boost the volume of local research with the format "keyword + city". Take into account that 81% of France's population lives in urban centres, while 19% lives in rural areas.
You will also like these articles:
A successful French SEO strategy for your business
Search engine optimization (SEO) is the process of building the visibility of a website in the unpaid results of a search engine. It's the art of optimising the content of your website (SEO on-page), the code and user interface performance of your website (technical SEO) and generating backlinks from other domains to gain credibility (SEO off-page).
SEO must be apprehended from a holistic point of view: it's about optimizing all the aspects of your website to build your domain authority and gain ranking in the SERPs. Below we give you the recommendation to implement a successful French SEO strategy.
French SEO localisation and translation
Avoid automated translation
Your website is in English or another language and do you want to make it available on Google France? The most popular technique is to translate all of your content into French. To achieve this, many companies tend to use Google Translate, Bing Translate or other automatic tools provided by their CMS (WordPress, Shopify, Squared Content…). Automatic translation can be a good approach to get the very first basic structure of your content in French… but please do not stop there!
Automatic translators are getting more and more powerful every year, but they don't necessarily provide you with the best synonyms, words, phrase structure or even tone of voice. Those aspects are even more important given that French people only trust websites with a high level of French. Any mistake could generate mistrust and turn the customer away. If you choose to work with an automatic translator, be aware that you will have to refine your SEO translation.
Consider localisation instead of translation
Global companies with a successful SEO strategy in France actually don't translate their website content, they prefer to adapt it to the local culture (they often talk about "content localization"). The idea behind content localisation is more than translation, it's the process of making your content culturally relevant and easy to understand for the audience you're targeting in a local market.
SEO for France especially can be tricky because of the French language as it comes with many nuances. And there is always a risk to use words that may have different meanings from country to country. French has many words that look or sound very similar to English, German or Spanish, but their meaning is totally different.
There's for example this funny list of the most common french translation fails. One typical fail is with the word "normalement"; which does mean "normally" but has also the extra meaning of "it all goes to plan or "all is being well". Furthermore, did you know that on average French words are 25% longer than in English?
Get the expertise of a native French SEO specialists
Working with a French SEO writer can result in being a powerful, inexpensive and winning strategy for your business. If you want to seriously improve your SEO in France, you must consider this as part of your marketing plan. A native speaker can perform keyword research and help with the website translation to ensure it's using terminology that will resonate with your audience. It's best if these native speakers know SEO because they will be able to optimise your website following best practices.
A native French SEO specialistist will have the best understanding of how to write for your industry. A French SEO writer will know what phrases to use and how to phrase things, will know the ins and outs of the language, and its nuances and be able to write content that appeals to locals. With tremendous Gifs, that French people will love for sure!
French SEO profesionnals will help you rank higher on Google by using keywords that are specific to your industry. Your content will get a higher probability to meet French-speaking audiences. Furthermore, native SEO professionals are also able to sustain a conversation in French, which is beneficial for building trust with potential customers through email or live chat.
Keyword research in French
To approach the French market with an SEO strategy, you need to do research to find out the most relevant used keywords in France within your industry. You must choose keywords that people use in their everyday online searches, depending on their relevance, monthly search volume and degree of competitivity. In terms of methodology, we suggest you do first a competitive analysis, which includes:
Finding your actual competitors
Identify what keywords your competitors are targeting for their French SEO strategy and make a list of the top 10 websites that rank on broad keywords, money keywords and specific keywords related to your industry.
Identifying keyword gaps
When you have an idea of what your competitors are doing, you should list 3 types of keywords:
keywords from competitors where you could easily rank higher and gain ground over them ;
other keywords where you rank slightly higher than competitors and should take action to keep your position ;
queries free of competition where you could easily and quickly gain visibility ;
Discovering topics of interest
The best way to discover what your potential audience needs is to pay attention to the questions they ask in French search engines. Questions are useful insights in different ways, as it allows you to:
understand the user intent behind a specific keyword ;
identify related topics or subtopics ;
discover consumers' pain points, doubts or second thoughts regarding a topic ;
One pretty fancy tool is Answer The Public, which gives you all the questions in relation to a specific keyword, in the country of your choice. We made the test for the word "chocolate" in France and the platform generated the chart below. We can easily find all the questions in "Why", "How", "Which", "When" etc. French people ask about the chocolate topic on French SERPs.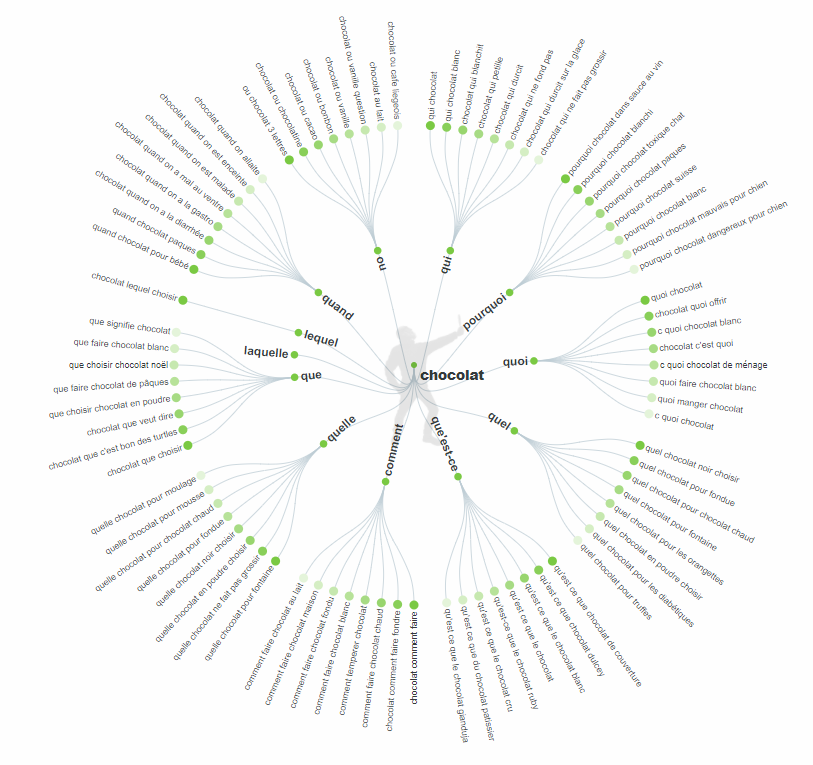 French SEO for e-commerce product name
If you are dealing with an e-commerce website and a large product listing, knowledge of writing a good product name and an outstanding product page is important. SEO can be key to your success. If you expand to France, keyword research also applies to your product catalogue. It's important to know which product name makes the most sense to the French people and sounds the most natural. For example, when it comes to shoes, French people usually search for the keyword "baskets", "sneakers", "chaussure" or tend to combine them?
It's important for your SEO strategy in France that you use the optimal translations of product names. For some products, there's only one possible translation, but for others, there could be three or four possible translations of the product name.
Best tools for French SEO
You can do keyword research using any of the most popular SEO tools in the market, like Ahrefs, SEMRush or Moz. Each tool provides you with a wide range of metrics to filter keywords, like:
the average number of monthly searches to consider the popularity of a keyword ;
the competition score to estimate how hard it would be to rank organically on a keyword ;
the average CPC if you want to bid on the keyword through advertising on SERPs
You will also like these articles:
Technical SEO in French
Website structure for international SEO
Once you have all your content localized in French, you will wonder how to host this new content on your website. There are 4 different strategies to target multiple languages. Consequently, small and medium international companies usually don't know if they have to create a:
new domain (example.fr) ;
subdomain (fr.example.com) ;
subdirectory / subfolder on their main domain (mydomain.com/fr) ;
ccTLDs / country-coded top-level domain (example.co.uk)
Usually, the best option is to create a subfolder rather than using a separate domain. Going with a different domain will make the whole SEO work more complicated, you will have to start building the authority of the new domain from scratch. While using a subfolder strategy, you will be able to benefit from the authority of the existing domain. For a multilingual SEO strategy, we recommend getting started with the subfolder structure.
According to Search Engine Journal, "most international SEO professionals recommend that a site consider the use of a subdirectory for different languages (example.com/fr); however, if one can afford the financial and technical cost, a country code top-level domain, or ccTLD, (example.co.uk) would be desirable". With the subfolder strategy, it's important to use the hreflang tag, to let search engines know that your subfolder "/fr" is only for French audiences.
The domain name and french URL
For French audiences, it's obviously easier to navigate a website with a French domain name and a website that contains french URLs. It makes the website architecture easier to understand and generates trust. However, as mentioned above, going with a different domain name has a higher cost: you will basically start your French SEO strategy from zero. From our point of view, the French domain is the best option only if:
France is a key strategic market for your business ;
You're aware that bigger investments will be required to rank the domain
You're OK with this investment and you can afford it in the long term to make your French SEO strategy successful
On the opposite, you should choose a subfolder or subdomain with the extension "fr".
SEO meta tags
During the localization process, SEO metadata is usually overlooked. It's very important that your meta-titles and meta-descriptions, as well as your page URLs, show up in proper French on Google. If not, French users will not click your page and you'll lose traffic. Of course, your metadata should include the specific french keyword you are targeting.
With a French language URL, a .fr domain extension or /fr subfolder, your metatags and title descriptions in French, you can be sure that your website will show on a regular basis in Google and other French SERPs.
Internal linking
For the internal linking of your website, the best strategy is to link pages and blog posts that have a strong semantic affinity. Building content silos (or semantic pillars) will help you boost your indexability on Google and build your authority on a specific topic. For example, if you have an article about doing SEO in France, it will be useless to link it with an article about the Top 5 German advertising agencies.
Anchor text (text of the link itself) is also important to send a positive signal to Google. Make the choice to use French keywords for your backlink anchor text.
Buy SEO services for France
Gaasly is an experienced international digital marketing agency with French SEO professionals at hand. We can help you with local SEO in Paris, Bordeaux, Toulouse, Lille and other cities in France.
All our French SEO experts have +6 years of experience.
Our French native consultants will help you with your French SEO strategy. They select the best keywords in France for your business, suggest relevant topics that are good opportunities to gain organic traffic, and translate/localize your content. Working with Gaasly means working with:
French SEO consultants with local expertise
English-speaking account manager
Google certified expert
Do you want to enter the French market but you are struggling with your French SEO strategy? Feel free to contact us!
Contact us, and let's have a talk!
FAQs