Black Friday has been a staple in the retail industry for years. Does France participate in Black Friday? The short answer is yes. The trend is slowly beginning to pick up, and in this article, we'll be discussing what Black Friday in France entails and how to plan your campaign to increase your sales in France during this shopping season.
Who are we? Gaasly is a digital marketing agency with French experts at hand. You can benefit from our local expertise and global experience to grow your business in France. Feel free to reach out if you want to be assisted in your marketing expansion. In the meanwhile, enjoy your reading with a warm coffee ☕️
What is Black Friday?
Origins of the Black Friday
Black Friday was first adopted by the U.S. in the 1950s. Where does Black Friday come from and why this name? Black Friday was born in the United States and designates the day of promotions the day after Thanksgiving. The term appeared in the early 1960s. The story goes that traders then used black ink to note their sales which exploded that day, hence the name Black Friday or Black Friday.
From 2015 to 2018, the spending volume during this day is constantly returning spectacular numbers. This trend has seen the adoption of Black Friday by other countries like France. Black Friday is a day when many retailers and online stores offer discounts to promote their products. The goal of these campaigns is to attract more customers, especially new clients, and increase the retail sales volume. It's essentially a way to attract new customers and increase sales volumes over the counter. Unlike what we might think, the French do not primarily look for these offers on this day, but throughout all of November.
Why the Black Friday is important for companies
Beyond community outreach, Black Friday 2021 was an excellent opportunity for companies to increase their brand image and notoriety by offering items at a reduced price. Black Friday in general has become a day of promotional offers that are mainly responsible for the success of commerce platforms and online stores such as Amazon or Spotify.
More generally, Black Friday is part of what is known in English as the "golden quarter". This term refers to the fourth quarter of the year, the most lucrative for e-commerce with its many high points in the marketing calendar such as Halloween, Singles Day, Black Friday, Cyber ​​Monday, Christmas and New Year. Deloitte estimates predicted an increase in online sales between 11 and 15% at the end of 2021 compared to the end of 2020.
The Black Friday in France
A new ecommerce event gaining ground in France
At first thought, one could think that French consumers would be fascinated by the idea of ​​saving money on products sold at greatly reduced prices. Most French commerce platforms, however, do not participate in this day and some question its impact.
In France, this tradition has slowly gained ground over the past few years. Black Friday in France is seen as a promotional period that happens just before Christmas and the holiday season: discounts and offers vary from one store to another. When is Black Friday in France? Black Friday in France is pretty new, some commerce platforms have been trying to leverage this foreign event to increase their retail sales in France. This move is gaining ground in France but is still meeting with considerable resistance at numerous levels of French society.


When Black Friday in France is?
The exact date of Black Friday varies each year, depending on the last Friday before the end of November. Black Friday in France is seen as an opportunity to start Christmas shopping early and enjoy offers, while other consumers prefer to start their Christmas shopping later.
| | |
| --- | --- |
| Year | Date of the Black Friday in France |
| 2022 | 25th of November |
| 2021 | 26th of November |
| 2020 | 27th of November |
| 2019 | 29th of November |
Is Black Friday big in France?
According to Criteo institute, Black Friday 2020 saw a +127% spike in sales compared to the average of October. It means that sales are multiplied by x2 during the Black Friday in France. This statistic also illustrates the eagerness of French consumers to buy at a lower price.
The average budget per buyer is around €330 for Black Friday
Black Friday generates a FOMO (Fear of Missing Out) phenomenon. Brands have understood this and do not hesitate to communicate their offers several weeks before the event to arouse interest and generate excitement.
According to BVA-Orange 2019's study, Black Friday in France has become a kind of tradition since 6 out of 10 French people (62%) make purchases every year on Black Friday. And a study from Poulpeo reveals that the average budget per buyer is around €330.
Most searched type of products for Black Friday France
In 2021, for Black Friday, the French consumers looked for gaming consoles, phone devices, home appliances, and perfumes. Clothing is the 6th most searched category of product, just before Shoes, which makes sense since the majority of apparel companies try to sell out their past collections.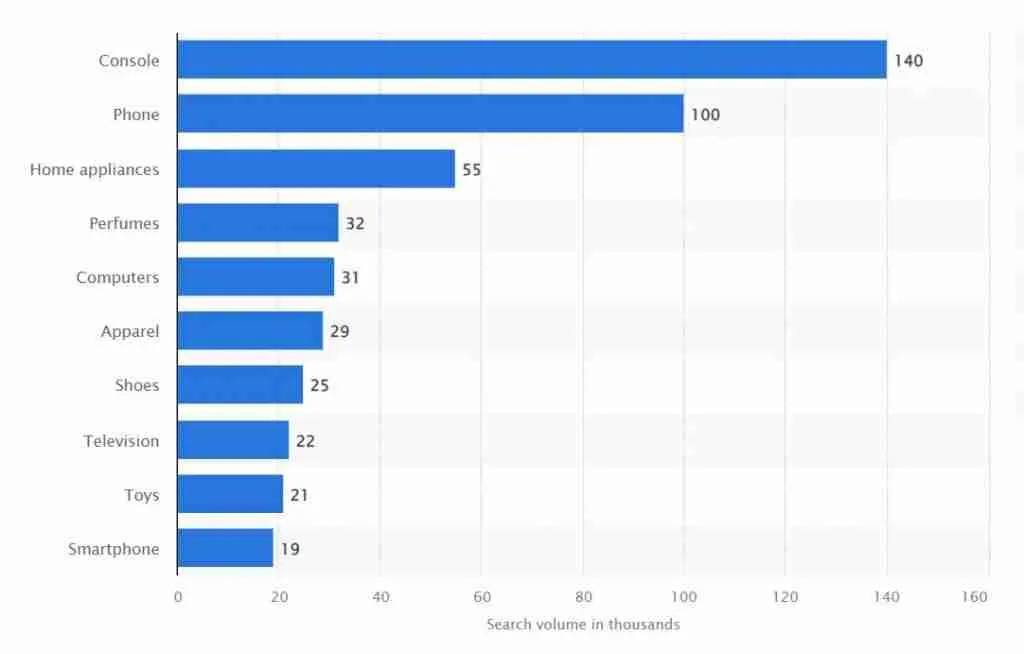 What do French consumers think about Black Friday?
More than 50% of French men and 35% of French women think that Black Friday is an invention that just makes us spend more money.
The main reason that drives consumers to buy during Black Friday is the anticipation of Christmas shopping and the possibility of buying presents without stress (cited by 21% and 33% of buyers). The proximity to Christmas and the reduced prices make it an ideal time to prepare your gifts.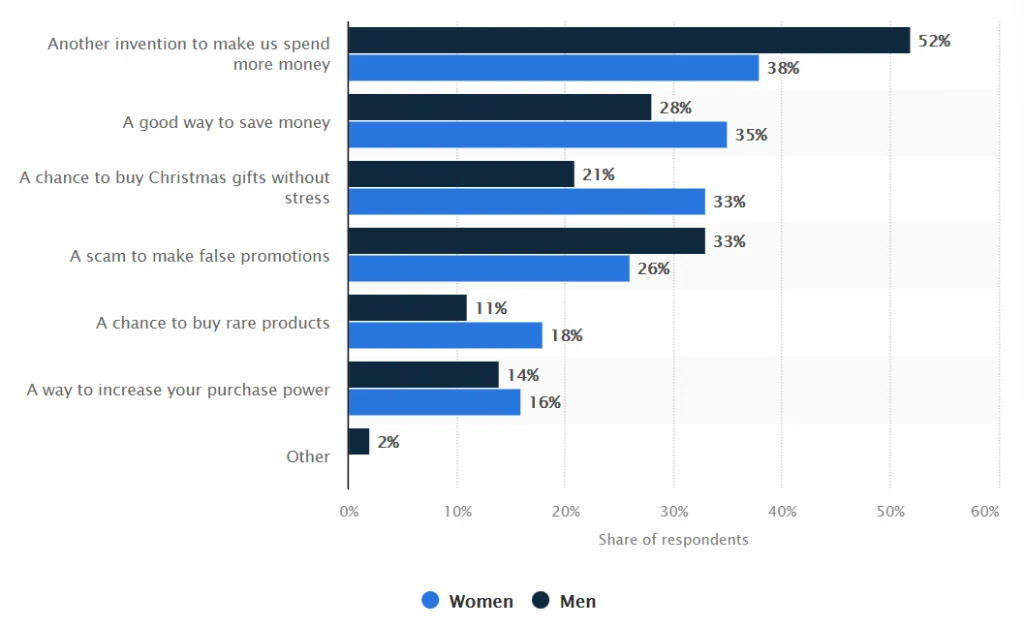 Why is Black Friday frequently backlashed in France?
Black Friday can also be regarded as a conflictive moment in France.
It symbolizes excessive consumerism. In 2019 for example a French legislative committee opened a wider debate to ban Black Friday France. For many French people, Black Friday has created a marketing need that's an aberration.
It also contributes to climate change by encouraging overproduction. In 2019, environmental activists blocked an Amazon warehouse in the south of Paris to protest against Black Friday in France.
It comes from the USA… and French people are often very critical of American economical imperialism. Despite a historic alliance between France and the United States over time, the French consumers have always strongly protected their independence, their own way of doing and thinking, and usually regard the American influence with distrust.
Amazon France & Black Friday
Black Friday is also backlashed because it increases the unfair competition between big resellers and small French local commerces. In November 2020, during the pandemic of Covid, Amazon increased its sales in France by between 40% and 50%. In the meantime, small businesses remained closed. Facing a huge backlash, the head of Amazon France said his group agreed to postpone its "Black Friday" discount shopping sales.
The same happened in 2021, with official declarations of the French government. The French minister of economy fired a big warning shot at Amazon, eBay, Wish, Alibaba and all the online marketplace in the US and China. The French government actually wants to:
promote the French priority and defend the local french e-commerce
fight against "unsafe products" sold on Wish, Amazon other marketplaces
Black Friday vs Green Friday
Green Friday defines itself as a citizen's event against Black Friday. The history of Green Friday begins in 2017 when members of the Envie network realized the growing importance of Black Friday in France. Their first intuition was to join in this day of retail sales by offering the Envie recycled household appliances at discounted prices on the model of the big classic retailers.
Very quickly, the Envie network realizes that Black Friday in France represents everything it has been campaigning against since 1984. So, rather than joining this day of unbridled consumption, the network decides to create its anti-Black Friday day: Green Friday. It has been joined by more than 150 companies in France in the last few years.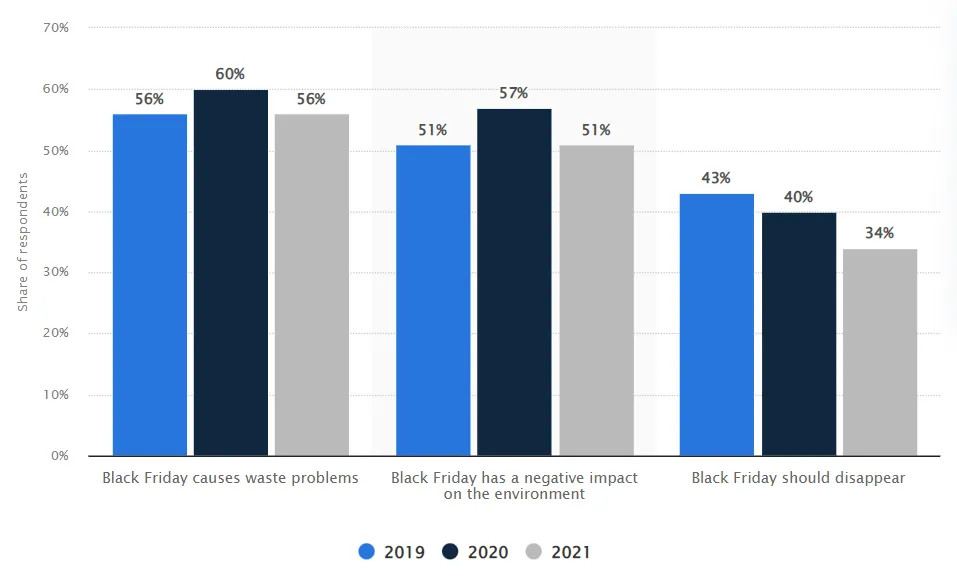 In the previous two years, the percentage of French respondents who thought that the event should disappear was no lower than 40%, in 2021, it was at 34%.
The most searched products during Black Friday in France
The most searched products for Black Friday France in 2021 were in the category Console, Phone, Home, Perfumes and Computers. We can see that French people take advantage of Black Friday France, especially for tech products, which are the most expensive on the market.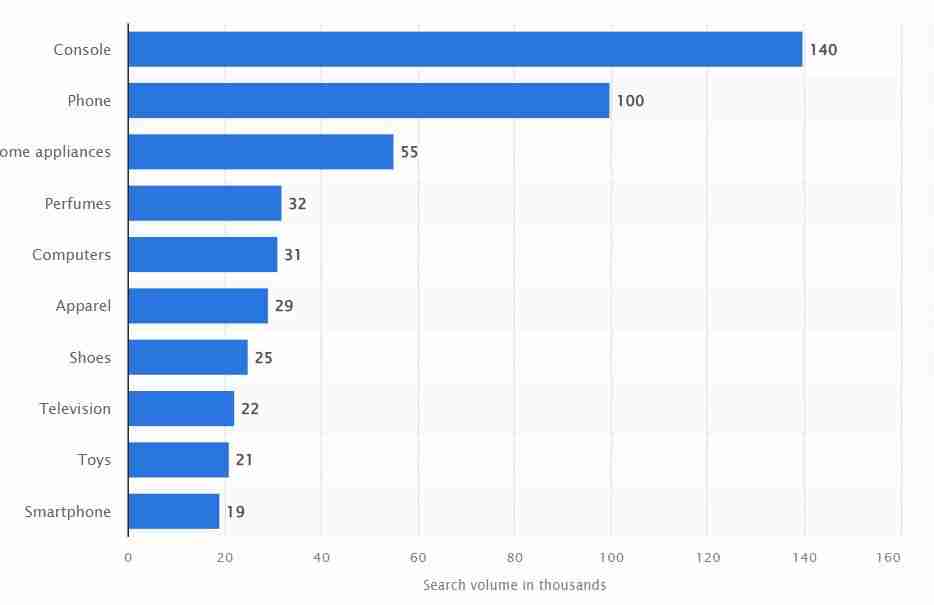 You will also like these articles:
How to make Black Friday successful in France?
The French are known for their love of quality over quantity and value for money. It is common to find stores with empty shelves displaying signs that say "sold out".
Create punchy ads for the occasion
First, you need a well thought out ad campaign that you can use in your stores and on social media networks like Facebook, Instagram, Twitter or Snapchat (2nd market for France).
People love good visuals, so make sure you have quality images of the deals being offered during Black Friday.
Social proof plays a vital role in online shopping, so having testimonials from previous customers can be a great way to convince people.
Incorporate some paid search into your campaign as it's going to help you reach more potential clients and will increase visibility on Google Shopping (Google Search Results). However, the downside is that these ads are expensive and can eat up your marketing budget.
Update your online store product catalogue
The best way to secure higher sales during Black Friday is by having a well-planned product catalogue.  Introduce reasonable inventory levels and prices so that people don't feel like they're being tricked into buying something. At the same time, you need to offer some desirable deals on your website to meet your financial goals for this campaign.
Offer good discounts
As a general rule, you should have at least 1/3 of your ecommerce platform products discounted during Black Friday week in France and offer 2 or 3 times more deals than usual. If not, people will see it as an ordinary retail sale that they'll ignore because so many other stores offer great discounts to their customers.
Communicate around your brand values & engagements
French people are very sensitive to brands' engagements so it will definitely be important to communicate around your brand's values. Promoting your product isn't enough! French people attach meaning to their purchase, a transaction is a commitment.
Communicate how your business is acting concretely to help consumers to adopt better habits. What is your company doing to reduce its carbon foothold? Do you have an internal plan to promote diversity and be inclusive toward minorities? Don't be afraid to spread the word about every good action your company is doing!
How to prepare your campaign for Black Friday France?
Right, so you are ready to set up your campaign and propel your company to the next level for Black Friday in France. But how do you go about it in France? As with any campaign, planning is integral to the success of initiatives. Keep the following tips in mind when organizing your campaign.
Research your target audience
First, determine who your company's potential clientele will be. For instance, if you're a fashion retailer and you wish to partake in Black Friday next year, it is essential to study the habits of your desired customer base.
Set up a promotion strategy
A good strategy will allow you to maximize the impact of your campaign. Decide on a budget. Keep in mind that this amount will depend on the products you wish to promote and whether or not these are sold at a discounted price. Also, consider your timing. Start slowly with small promotions before increasing the volume of your discount later in the day.
Select your channels
Companies should choose the appropriate social media channels for their campaigns. For example, if you want to target young buyers aged between 18 and 25 years old, Snapchat is definitely a relevant channel in France. This platform allows users to share photos and videos with their friends.
Time your campaign to boost sales
To increase the impact of your campaign, time it correctly. For example, marketing experts recommend that companies begin their campaigns on a Monday or Tuesday. This allows them to build momentum and attract more customers over the following days.
Update your customers through social media
To keep in touch with your audience, you can use your campaign's hashtag and discuss it on your company's social media channels. This will help spread the word about the discounts that you're offering to attract new clientele.
Final words: is Black Friday France worth it?
Yes, Black Friday offers companies a great way to increase revenue, but you need to plan everything carefully to avoid a disaster. Retailers can offer many types of promotions during Black Friday weekend; coupons and discounts on specific products or simple price reductions on all items.
You can also try offering your customers exclusive deals that are only available for one weekend or create special offers depending on how much they spend in your store. There are plenty of ways you can stand out from other retailers during Black Friday week. The more creative you get, the better the results you are likely to have.
One of the best ways to achieve this is to have a well-planned product catalogue that offers your customers good value for money. You don't want all your products discounted, just some desirable deals that make people come back and shop with you in future sales events like Black Friday or Cyber Monday.
FAQs